The CW zeigt Trailer für Staffel 7 von "Legends of Tomorrow"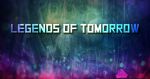 Am 13. Oktober 2021 fällt bei The CW der Startschuss für die siebte Staffel der Superheldenserie "Legends of Tomorrow". Vorab wurde auf Twitter (siehe unten) ein Trailer enthüllt, der vermuten lässt, dass es teilweise in den 1920er Jahren spielen wird.

Alles Weitere zu "Legends of Tomorrow" findet ihr in unserem ausführlichen Serienbereich.
Externer Inhalt
An dieser Stelle ist Inhalt von einer anderen Website (z. B. YouTube, Twitter...) eingebunden. Beim Anzeigen werden deine Daten zu der entsprechenden Website übertragen.
Quelle: TVLine, @TheCW_Legends via Twitter
Daniela S. - myFanbase
18.09.2021 15:27
Weitere News
mehr News
Meistgelesen
Verpasst keine News und Updates