Mark Andrews, Brenda Chapman
Merida - Legende der Highlands
"I'll do anything to make things right again and save the kingdom. I just have to be brave."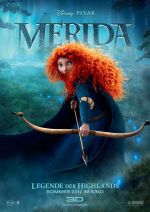 © 2012 Walt Disney Studios Motion Pictures Germany
Inhalt

Prinzessin Merida, turbulenter Rotschopf und schottische Königin in spe, ist ein echter Wildfang – ganz zum Leidwesen ihrer Mutter, Königin Elinor, die vergeblich versucht, ihre Tochter zu einer vornehmen Dame zu erziehen. Schließlich soll Merida schon bald eine vorteilhafte Ehe im Königreich eingehen, wie es die Tradition gebietet.

Doch die junge, zielstrebige Bogenschützin wehrt sich vehement gegen ihr Schicksal sowie jegliche Restriktion ihrer Mutter und begeht in ihrer Wut schließlich einen fatalen Fehler, der das ganze Land in Gefahr bringt und droht, ihre Familie zu zerstören...

Kritik

"Merida – Legende der Highlands" ist der neueste Streich der kalifornischen Pixar-Animation-Studios, die in den letzten 27 Jahren durch Welterfolge wie "Toy Story", "Findet Nemo" oder "Oben" internationale Anerkennung gewinnen konnten und das Animationsgenre grundlegend revolutionierten. Heute scheint allein der Markenname Pixar ein unausgesprochenes Versprechen über lebensnahe Animation und individuelle, liebevoll gestaltete Plotlines zu sein.

Das erste positive Kriterium für "Merida", das auch weniger eingefleischte Pixar-Fans ins Kino bewegen könnte, ist die gewählte Kulisse der schottischen Highlands, die von den Zeichnern in wirklich einzigartiger Weise zum Leben erweckt wurde. Viele umwerfende Landschaftspanoramen, untermalt von einem individuellen, landestypisch geprägten Soundtrack, sind allemal einen zweiten Blick wert.

Auch die Geschichte rund um das traditionsreiche Königreich und Meridas Fluchtversuche aus der ihr vorgeschriebenen Lebensperspektive bieten viel Potential für witzige Szenarien, die jedoch leider in vielen Fällen bereits im Trailer verwendet wurden. Das Erzähltempo ist angemessen und lässt keine Langeweile aufkommen, vor allem aufgrund einiger unerwarteter Wendungen im Handlungsverlauf.

Interessant ist insbesondere für alle älteren Zuschauer der kritisch-feministische Unterton des Films, der dem kindlichen Augenmerk wahrscheinlich eher entgehen dürfte. In der Ausgestaltung der Charaktere zeigen sich zwar hier und da Lücken, jedoch sorgen besonders einige Nebenfiguren, typisch für Pixar, für auflockernde, humoristische Einlagen.

"Brave", wie der Animationsstreifen im amerikanischen Original heißt, ist dem Ende 2011 verstorbenen Apple-Giganten und Pixar-Mitbegründer Steve Jobs gewidmet, der die Studios als Unternehmensleitung erst zu dem machte, was sie heute sind. Mit ihrem Projekt machen sich die Regisseure Andrews und Chapman bestimmt nicht lächerlich, jedoch ist vor allem die Story-Ausführung im Vergleich zu den animierten Meisterwerken der letzten Jahre deutlich schwächer. Kein Beinbruch allerdings, denn Mr. Jobs dürfte eher an der Weiterwicklung des Animationshandwerks interessiert gewesen sein als an tollen Dialogen.

Fazit

Wer Animationsfilme und vor allem Pixar mag, macht mit "Merida" auf jeden Fall nichts falsch. Mit einer FSK 6 ist der Film aber gut eingestuft, denn den Kleinsten dürfte es hier an vielen Stellen ein wenig zu aufregend werden.


Vinona Wicht - myFanbase
13.08.2012
Weitere Informationen
Originaltitel: Brave
Veröffentlichungsdatum (USA): 22.06.2012
Veröffentlichungsdatum (
DE
): 02.08.2012
Länge: 100 Minuten
Regisseur: Mark Andrews, Brenda Chapman
Drehbuchautor: Mark Andrews, Brenda Chapman, Steve Purcell, Irene Mecchi
Genre: Animation
Darsteller/Charaktere
Nora Tschirner
als Merida (Stimme)
Bernd Rumpf
als Fergus (Stimme)
Monica Bielenstein
als Elinor (Stimme)
Marianne Groß
als Die Hexe (Stimme)
Tilo Schmitz
als Lord MacGuffin / junger MacGuffin (Stimme)
Aktuelle Kommentare

17.09.2021 01:55
Ich liebe deine Kommentare! Merediths Kommentar bzgl....
von Daniela

16.09.2021 14:57
No,You are mistaken.It looks like this is Mr actor's...
von Lucy Ellis
mehr Kommentare
Verpasst keine News und Updates