Sam Raimi
Drag Me to Hell
Christine Brown has a good job, a great boyfriend and a bright future. But in three days, she's going to hell.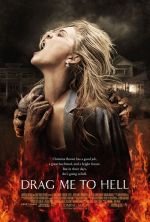 Inhalt
Christine Brown (Alison Lohman) ist Bankangestellte und im Rennen um eine Beförderung, jedoch hat sie mit ihrem Kollegen Stu einen starken Konkurrenten. Um bei ihrem Chef gut dazustehen, lehnt sie das Kreditgesuch der Roma Mrs. Ganush (Lorna Raver) ab, trotz deren bitterlichen Flehens, womit sie den Zorn der alten Zigeunerin auf sich zieht. Die belegt Christine mit einem schrecklichen Fluch, der ihr das Leben zur Hölle macht und sie auch bald schon dorthin befördern wird. In ihrer Not wendet sich die junge Frau an den Wahrsager Rham Jas (Dileep Rao).
Kritik
Heutzutage einen Horrorfilm zu sehen, der kein Remake ist, ist wie ein Sechser im Lotto. Umso erfreuter war ich, als ich erfuhr, dass "Drag Me to Hell" tatsächlich mal keine Neuverfilmung ist. Zugegeben, die Story mit der jungen Frau, die von einem Fluch belegt wird, ist nicht sonderlich neu, wurde aber bisher selten so spannend und zudem auch noch witzig umgesetzt. Regisseur Sam Raimi, der für die "Spider-Man"-Filme verantwortlich ist, erreichte mit seinen Horrorfilmen bereits in den 80er Jahren Kultstatus, bevor er sich schließlich anderen Genres widmete. Mit "Drag Me to Hell" kehrt er zu seinen Wurzeln zurück und präsentiert den Zuschauern einen unterhaltsamen Horrorstreifen.
Die Eröffnungsszene macht sofort deutlich, was auf die Hauptdarstellerin zukommen wird und das ist nicht gerade schön, aber dafür sehr spannend. Nur im Mittelteil verliert der Film etwas an Fahrt, fängt sich aber schnell wieder und bleibt dann packend bis zum Schluss. Schreckhafte Personen werden sicher mehr als einmal zusammenzucken, denn der Film enthält einige heftige Schockmomente, andererseits gibt es aber auch einiges zu lachen. "Drag Me to Hell" ist ein sehr schwarzhumoriger Film, mit einigen übertrieben ekligen Szenen sowie einem tanzenden Zombie und weiteren Momenten, die einen das ein oder andere Mal zum Schmunzeln bringen.
An den Darstellern gibt es nichts auszusetzen. Vor allem Hauptdarstellerin Alison Lohman kann überzeugen und wirkt sehr sympathisch. Aber auch der restliche Cast, unter anderem Justin Long, ist nicht übel. Der schaurige Score trägt nochmal ein großes Stück zur Spannung bei. "Drag Me to Hell" ist kein gewöhnlicher Horrorfilm und gerade deswegen sehr erfrischend, laufen die meisten Horrorfilme doch heutzutage nach dem gleichen Schema ab.
Fazit
Sam Raimi ist mit "Drag Me to Hell" ein spannender, schwarzhumoriger und unkonventioneller Horrorstreifen gelungen, der für einige Schockmomente sorgt, aber gleichzeitig auch die Lachmuskeln der Zuschauer beansprucht.


Kevin Dave Surauf - myFanbase
13.06.2009
Weitere Informationen
Originaltitel: Drag Me to Hell
Veröffentlichungsdatum (USA): 29.05.2009
Veröffentlichungsdatum (
DE
): 11.06.2009
Länge: 99 Minuten
Regisseur: Sam Raimi
Drehbuchautor: Ivan Raimi, Sam Raimi
Genre: Komödie, Horror
Darsteller/Charaktere
Alison Lohman
als Christine
Justin Long
als Clay
Lorna Raver
als Mrs. Ganush
David Paymer
als Mr. Jacks
Dileep Rao
als Rham Jas
Aktuelle Kommentare
Verpasst keine News und Updates