Matthew Leutwyler
Dead & Breakfast
Willkommen im Hotel Zombie.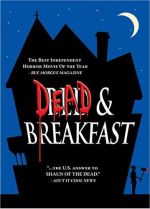 Inhalt

Auf dem Weg zu einer Hochzeit macht eine Gruppe von Freunden in einer provinziellen Kleinstadt halt und steigt im Bed and Breakfast des mysteriösen Mr. Wise (David Carradine) ab. Als die Freunde mitten in der Nacht die Leiche des Kochs (Diedrich Bader) finden und Mr. Wise an einem Herzinfarkt stirbt, ist dies erst der Anfang des Albtraums, denn durch eine seltsame Box, die sich im Besitz von Mr. Wise befand, mutieren die Dorfbewohner plötzlich zu blutrünstigen Zombies.

Kritik

Mit "Shaun of the Dead" brachte das britische Kino 2004 eine abgefahrene Zombiekomödie hervor und auch Hollywood ließ sich nicht lange bitten. "Dead & Breakfast" ist eine Splatterkomödie, in der sich Twens gegen Zombies zur Wehr setzen müssen. Wie es sich für eine Splatterkomödie gehört, fließt dabei reichlich Blut, ohne dass sich der Film selbst ernst nimmt. Vor ihrer Verwandlung in Zombies waren die Dorfbewohner rückständig und debil, nach ihrer Zombiefizierung lassen sie sich auch von abgetrennten Gliedmaßen und Eisenrohren in diversen Körperregionen nicht aufhalten.

Eine Tanzeinlage im Stile von Michael Jacksons Superhit "Thriller" haben die Zombies auch noch drauf und ein Countrymusiker führt mit zur Handlung passenden Songs durch den Film, was er auch als Zombie noch macht, nur dass seine Texte dann nicht eben netter werden.

Man wird im Laufe des Films das eine oder andere Mal zum Grinsen animiert, doch ein Feuerwerk aus Gags und originellen Ideen wird nicht entzündet. Der Humor ist solide, die Splatterszenen ordentlich, die Schauspieler souverän, doch das ganz große Highlight bleibt aus. Die einen oder anderen Drehbucheinfälle sind sogar recht vorhersehbar. So kommt es beispielsweise alles andere als überraschend, dass ausgerechnet die pazifistische Veganerin der Gruppe, gespielt von Gina Philips, am Ende zur erfolgreichen Zombiekillerin wird oder dass der verlachte Loser (Oz Perkins) auf Oberzombie machen darf. Gags über Provinzler mit faulenden Zähnen und dem IQ von Kuhfladen sind nun auch nicht gerade neu.

Fazit

"Dead & Breakfast" ist eine solide Splatterkomödie, die nicht nachhaltig in Erinnerung bleibt.


Maret Hosemann - myFanbase
23.02.2009
Weitere Informationen
Originaltitel: Dead & Breakfast
Veröffentlichungsdatum (USA): 10.07.2004
Veröffentlichungsdatum (
DE
): 16.03.2004
Länge: 88 Minuten
Regisseur: Matthew Leutwyler
Drehbuchautor: Matthew Leutwyler, Jun Tan
Genre: Komödie, Horror
Jetzt bestellen
DVD jetzt bei Amazon.de
bestellen
Aktuelle Kommentare

30.11.2021 22:50
Mir gefällt die moderne Interpretation, dass Carrie...
von Catherine

26.11.2021 13:44
War diese Woche auch schon ganz durcheinander, weil...
von Lena
mehr Kommentare
Verpasst keine News und Updates