K.C. Bascombe
Fear of the Dark
"In der Dunkelheit ist nichts und das Nichts scheut das Licht."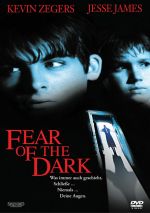 © Splendid Film GmbH
Inhalt

Der zwölfjährige Ryan (Jesse James) hat panische Angst vor der Dunkelheit. Er sieht unheimliche Wesen, doch niemand glaubt ihm, auch sein älterer Bruder Dale (Kevin Zegers) nicht. Als die Eltern der Jungs eines Abends ausgehen, muss Dale mit den Ängsten seines Bruders umgehen, doch in dem Moment, da aufgrund eines Unwetters der Strom ausfällt und das Haus in Dunkelheit versinkt, nehmen die unerklärlichen Ereignisse zu und auch Dale überkommt bald die nackte Angst.

Kritik

Höhe, Spinnen und Dunkelheit, das sind wohl die drei am weitesten verbreiteten Angstquellen unter uns Menschen, wobei sich die Angst vor der Dunkelheit für Filmemacher am einfachsten (und günstigsten) umsetzen lässt. Man braucht eigentlich nur, wie Regisseur K.C. Bascombe mit "Fear of the Dark" veranschaulicht, ein Haus und kein Licht. Das Ergebnis ist allerdings kein sonderlich guter Film.

Obwohl die beiden jungen Darsteller Jesse James und Kevin Zegers ihre Sache recht ordentlich machen, wirkt "Fear of the Dark" alles in allem sehr unausgegoren. Man bekommt nicht wirklich klar vermittelt, ob es nun um Wesen geht, die tatsächlich in der Dunkelheit lauern, um die bloße Angst vor Wesen in der Dunkelheit, die man überwinden muss, oder um Wesen in der Dunkelheit, die es zwar gibt, vor denen man aber nur keine Angst haben muss, damit sie verschwinden. Alle drei Möglichkeiten werden angerissen, aber keine von ihnen wird konsequent zu Ende erzählt.

Auch die Dialoge fallen nicht überzeugend aus und sind nicht immer stimmig. Einerseits erklärt Ryan seinem Bruder Dale ständig, was er seit Jahren in der Dunkelheit sieht und erlebt, gleichzeitig aber fragt Ryan seinen Bruder bei jedem mysteriösen Geräusch, um was es sich dabei handelt. Dales Schwanken zwischen Glauben und Nicht-Glauben wirkt ebenfalls recht unausgewogen.

Dass an dem einen Abend, an dem die Eltern ausgehen, plötzlich ein Unwetter einsetzt und der Strom ausfällt, und dass eine ganz normale Durchschnittsfamilie haufenweise gruselige Puppen auf dem Dachboden und im Keller aufbewahrt, sowie unheimliche Statuen im Haus hat, sorgt auch nicht wirklich dafür, dass der Film natürlich und ungezwungen wirkt. Warum die Eltern nicht frühzeitig nach Hause kommen, obwohl in der ganzen Gegend der Strom ausgefallen ist und sie wissen, dass ihr jüngster Sohn panische Angst vor der Dunkelheit hat, wird auch nicht erklärt.

Fazit

Der Film "Fear of the Dark" versucht, mit der menschlichen Urangst vor der Dunkelheit zu spielen, verzettelt sich jedoch in einer unausgewogenen Story ohne Tiefgang.


Maret Hosemann - myFanbase
18.01.2009
Weitere Informationen
Originaltitel: Fear of the Dark
Länge: 86 Minuten
Regisseur: K.C. Bascombe
Drehbuchautor: John Sullivan
Genre: Thriller, Horror
Jetzt bestellen
DVD jetzt bei Amazon.de
bestellen
Darsteller/Charaktere
Kevin Zegers
als Dale Billings
Jesse James
als Ryan Billings
Rachel Skarsten
als Heather Fontaine
Charles Edwin Powell
als Eric Billings
Linda Purl
als Sandy Bilings
Aktuelle Kommentare

24.10.2021 12:04
Ach, wir haben es zwar geahnt, aber das hat den Abschied...
von Lena

21.10.2021 10:44
Die Serie ist bereits verlängert :)Ich mische mich auch...
von Lena
mehr Kommentare
Verpasst keine News und Updates