Jonathan Levine
All the Boys Love Mandy Lane
Everyone is lying to be with her. Someone is killing for it.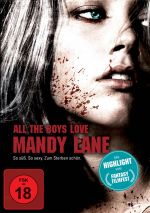 © 2009 Universum Film GmbH
Inhalt
Mandy Lane (Amber Heard) ist das begehrteste Mädchen an ihrer High School, doch bisher hat es noch kein Kerl geschafft, sie rumzukriegen. Ein Verehrer stürzt sich sogar - um Mandy zu beeindrucken - vom Dach und stirbt dabei. Neun Monate später begleitet Mandy ihre Freunde auf eine texanische Farm, auf der sie das Wochenende verbringen wollen. Dort fließt reichlich Alkohol und Drogen werden konsumiert. Alle haben Spaß, bis ein psychopathischer Killer auftaucht und dem Spaß ein Ende bereitet...
Kritik
Alle Jungs lieben Mandy Lane. Aber wieso? Das war die erste Frage, die ich mir gestellt habe, während ich den Film sah. Okay, sie ist ganz hübsch, aber mehr auch nicht. Sie hat nichts Besonderes an sich, das die Faszination der Jungs erklären könnte. Meine zweite Frage war, warum der Film so gute Kritiken bekommen hat, denn das kann ich mir wirklich nicht erklären. Für mich ist es einfach nur ein gewöhnlicher 0815-Horrorfilm. Das Einzige, womit sich der Film vielleicht von anderen Horrorfilmen abhebt, ist die Optik. Dieser 70er-Jahre Retrolook ist ganz nett anzusehen, macht den Film für mich aber nicht wirklich besser. Es ist bestimmt nicht der schlechteste Horrorfilm, aber es gibt auch ein Dutzend bessere.
Der Film stellt erstmal eine Dreiviertelstunde lang die Charaktere vor, hauptsächlich Mandy Lane, was auch nicht weiter schlimm wäre, wenn man es wenigstens irgendwie spannend gestaltet hätte. Aber nein, man muss sich von den Teenies irgendwelche niveaulosen Sprüche anhören oder zusehen, wie ein Perverser Mandy beim Ausziehen beobachtet. Als es dann mal endlich richtig losgeht und die ersten Köpfe rollen, war es für mich schon fast zu spät. Ich war vom Film schon so gelangweilt, dass mich die Slasherszenen dann auch nicht mehr beeindrucken konnten, da die meisten dazu auch noch total unoriginell waren. Der Killer wurde, meiner Meinung nach, schon viel zu früh enttarnt, aber eigentlich ist das auch egal, da man schon nach 20 Minuten erahnen konnte, wer der Killer ist.
Die Wendung zum Schluss hat mir dann nochmal den Rest gegeben, denn die war so lächerlich, dass ich echt lachen musste. Zudem ist sie, in Anbetracht der ersten Stunde des Films, total unlogisch. Spannung kommt während des ganzen Films so gut wie nie auf. Man zuckt höchstens mal kurz zusammen, wenn ein Schuss fällt, mehr aber auch nicht. Mich stört auch noch, das der Killer rein gar kein Motiv hat. Nach dem Film fragt man sich, was das Ganze eigentlich sollte. Das Cast kann größtenteils überzeugen, was aber auch nichts daran ändert, dass der Film einfach nur schlechter Durchschnitt ist.
Fazit
Nach all den guten Kritiken, habe ich mich auf ein guten Horrorfilm gefreut, wurde aber maßlos enttäuscht. Der Film hat zwar eine hübsche Optik zu bieten, ist aber sonst nichts weiter als ein 0815-Horrorfilm, den man so oder so ähnlich schon ein Dutzend mal gesehen hat.


Kevin Dave Surauf - myFanbase
01.10.2008
Weitere Informationen
Originaltitel: All the Boys Love Mandy Lane
Veröffentlichungsdatum (USA): 28.08.2008
Veröffentlichungsdatum (
DE
): 26.06.2008
Länge: 90 Minuten
Regisseur: Jonathan Levine
Drehbuchautor: Jacob Forman
Genre: Thriller, Horror
Aktuelle Kommentare
Verpasst keine News und Updates