Billy Eichner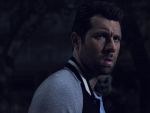 Billy Eichner, American Horror Story: Cult
© 2017 Fox and its related entities. All rights reserved.; Frank Ockenfels/FX
Billy Eichner wurde am 18. September 1978 in New York City geboren und wurde nach jüdischem Glauben erzogen. Er schloss 1996 die Stuyvesant High School ab und ging an die Northwestern University, um sich dort aufs Theater zu konzentrieren.

Nach seinem Abschluss konzentrierte er sich zunächst auf die Moderation und hatte sogar eine Live Talk Show in New York. Allerdings wollte Billy Eichner auch für Film und Fernsehen arbeiten. 2008 bekam er eine Rolle als Band Leader in dem Film "Love Vegas" zu sehen. Seitdem ist er in regelmäßigen Abständen in bekannten Fernsehserien zu sehen. 2014 hatte Billy Gastrollen in "The Millers" und "New Girl". Zwischen 2013 und 2017 war er die Stimme des Charakters Mr. Ambrose in der Serie "Bob's Burgers". Sein Schauspieltalent konnte es bei "Parks and Recreation", "Difficult People" sowie "Friends from College" in längeren Rollen unter Beweis stellen.

Schließlich wurde 2017 auch Produzent Ryan Murphy auf Eichner aufmerksam und besetzte ihn für eine Nebenrolle in der siebten Staffel von "American Horror Story". Zudem gab Billy über seinen Twitter-Account bekannt, dass er für die Realverfilmung von "Der König der Löwen" als Stimme von Timon verpflichtet wurde.

Billy Eichner lebt offen als Homosexueller.

Daniela S. - myFanbase
Ausgewählte Filmographie (Schauspieler)
2019
Der König der Löwen als Timon (Stimme)
Originaltitel: The Lion King
2018
Most Likely to Murder als Speigel
Originaltitel: Most Likely to Murder
2017
American Horror Story (TV) als Harrison Wilton / Tex Watson
Originaltitel: American Horror Story (TV)
2013 - 2017
Bob's Burgers (TV) als Mr. Ambrose (Stimme)
Originaltitel: Bob's Burger (TV)
2015 - 2017
Difficult People (TV) als Billy Epstein
Originaltitel: Difficult People (TV)
2017
Friends from College (TV) als Felix
Originaltitel: Friends from College (TV)
2016
Angry Birds als Chef Pig / Phillip (Stimme)
Originaltitel: Angry Birds
2016
Bad Neighbors 2 als Oliver Studebaker
Originaltitel: Neighbors 2: Sorority Rising
2016
Unbreakable Kimmy Schmidt (TV) als Billy Eichner
Originaltitel: Unbreakable Kimmy Schmidt (#2.09 Kimmy Meets a Drunk Lady) (TV)
2013 - 2015
Parks and Recreation (TV) als Craig Middlebrooks
Originaltitel: Parks and Recreation (TV)
2014
New Girl (#4.11 Flüge gestrichen) (TV) als Barry
Originaltitel: New Girl (TV)
2014
The Millers (TV) als Leon
Originaltitel: The Millers (#2.01 Movin' Out (Carol's Song)) (TV)
2008
Love Vegas als Band Leader
Originaltitel: What Happens in Vegas
Steckbrief
| | | |
| --- | --- | --- |
| Geburtstag | | 18.09.1978 |
| Geburtsort | | New York City, New York, USA |
Bereiche
Aktuelle Kommentare

17.01.2021 22:36
Das hilft dann schon mal weiter, weil Emilio in Episode...
von Catherine

16.01.2021 10:31
"denn die inhaltliche Dichte ist durch die Vielzahl von...
von Irina S.
mehr Kommentare
Verpasst keine News und Updates