Exclusive interview with Richard Harmon
July 20, 2012 | Richard Harmon is best known für his role of Jasper Ames on AMC's "The Killing", but he was also on "The Secret Circle" and "Tower Prep" and is currently working alongside Rachel Nichols and Erik Knudsen on the scifi thriller show "Continuum" in which he plays the role of Julian Randol. In this interview Richard talks about his work on these different shows and about who his musical idol is.

---
Note: © myFanbase 2012 - The interview is exclusive to myFanbase and may not be published on other websites or the like. You may share the first 2 questions if you link back to this site. Translations other than English and German may be posted with full credit including the writer's name and link to this site.
---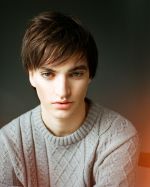 Richard Harmon
© Kin Chan
1. You once said you started to get passionate about acting when you were 15. What moment, role or acting job was the turning point?

Yes, this is true. The problem was I hadn't really ever had the opportunity to work on a set long enough to realize how much I loved to do what I do. I finally got the chance to do so on a movie I did called "Trick r' Treat", once I was done filming I was hooked, I realized just how lucky I was and now I can't imagine myself doing anything else.

2. You played Jasper Ames on AMCs "The Killing". What was it about the character that drew you to audition for this role?

Well, my agent sent me the audition for Jasper and I didnít know too much about the character or the show but after I got the role, reading the script and just seeing how great this show would be, I feel very blessed to be a part of it. Jasper as well as every other character on that show is just written with so much depth, it's a dream job for an actor.

3. I'm guessing everyone on the show had their theories about who murdered Rosie Larsen. Did you have one and were you right in the end?

I had thought going into the middle of the second season that it had something to do with the current Mayor (Tom Butler's character), I donít think I could have ever guessed what actually happened in the end, it was more than a little bit shocking.

4. Was there a chance that it was Jasper? After everyone had written him off it might have been a great surprise. Or would you have to have been booked for the last episodes from the beginning?

I really never have any idea on that show, they are so great at keeping the secrets to themselves, its kind of fun to be a part of the cast and still get to guess what is going on.

5. Please tell us about your new series "Continuum".

Continuum is a show I am so proud to be a part of, as for explaining it though, that is difficult, it's a very complicated show. Basically when a group of fanatical terrorists escape their planned execution in the year 2077, they vault back in time to the year 2012, sweeping dedicated CPS (City Protective Services) Protector Kiera Cameron along with them. Stuck in the past and unable to get back to her husband and son, Kiera concentrates on bringing down the terrorists before they can wreak havoc in our present. Kiera receives unexpected assistance from teen tech genius Alec Sadler. Impersonating a member of local law enforcement, Kiera also forms an uneasy alliance with her detective partner Carlos Fonnegra.

6. Looking at your characters on "The Killing", "The Secret Circle" and "Tower Prep", do you have a passion for playing dark broody bad guys? And is your character on "Continuum" one of these, too?

I have a passion for playing any and every type of role there is, thatís why I do what I do but as of late I have found myself playing a lot of "bad guys", which is perfectly fine with me. As long as I make each one of my roles different in their motivations I will never become bored of playing that type of character because it will constantly be a new challenge. Julian, my character in Continuum, is along the same lines of that "broody" kind of character you mentioned but as the series goes on people will start to see that that is just his very outside layer, thereís a lot brewing underneath the surface.

7. The "Tower Prep" premise was actually quite a scary one. Finding yourself at this school being completely cut off from the rest of the world and no way to escape. What do you think why did Ray still seem to adjust quite well?

I don't think Ray really adjusted quite as well as people think he did. I think he put up a good front that everything was all well and good with him being there but he really just is very good at hiding his weaknesses. If he had the choice, I believe he would go back to his family and return to his normal life.

8. Ray was a part of the secret society The Rooks. Can you relate to why students create secret societies with all their rituals and oaths?

Seeing as in real life I was never in one I don't fully relate to it, but I suppose when I think about it the idea of being part of something so exclusive would be kind of fun. They probably all just start off as fun and grow from their into their weird rituals and oaths, they constantly are trying to evolve the "society" probably.

9. You were in two episodes of "The Secret Circle", is working in Canadian television, US network television and cable television different?

It can be different but I would say it has more to do with the show itself than it being on cable or network or even being Canadian, it's the crew that makes each show a unique experience to work on and I've been very lucky to work on some really great shows with just some of the best people you could know.

10. On "The Secret Circle" what was the best part of working with the "young witches"?

Well I unfortunately didn't get to work with all of them but all the ones I did get to work with were very kind and welcoming to me.

11. What do you like to do to relax? What music and sports do you like?

I'm a huge movie geek, I watch movies constantly, it relaxes me. I love all kinds of music but I was raised on stuff like Bob Dylan, Van Morrison and the Rolling Stones. I'm grateful for the taste in music I inherited from my parents and even my older sister. My favorite sport is American Football hands down; I am a die-hard Notre Dame football fan.

12. If you could spend a day with any living or dead person, who would it be and what would you do?

I'm going to have to say Bob Dylan, he has been a huge inspiration for me and to spend a day with him would mean so much to me. We wouldn't really need to do anything, just talk about stuff.

13. myFanbase is an online magazine about U.S. television shows. Do you have one or more favorite show(s)?

Some of my favorite shows in the past couple years have been "Friday Night Lights", "Arrested Development", "Sherlock" (the BBC series) and Iím just starting on "Sons of Anarchy". Each one is amazing in their own way.

Thank you, Richard, we wish you all the best for your future!

Nicole Oebel - myFanbase

Meistgelesen
Aktuelle Kommentare

16.08.2019 15:05
Ja, sehr schade :D
von Daniela

12.08.2019 13:05
Ja, solange Leute von sowas profitieren - vor allem,...
von Catherine
mehr Kommentare
Verpasst keine News und Updates