Exclusive interview with Wilson Bethel
May 1, 2012 | Wilson Bethel plays the role of Wade Kinsella, doctor Zoe Hart's cheeky but extremely attractive neighbor, on "Hart of Dixie". In this interview Wilson talks about how much fun working on this dramedy round about the lovely village Bluebell is, how he got Rachel Bilson to rap and what he likes to do in his spare time.

---
Note: © myFanbase 2012 - The interview is exclusive to myFanbase and may not be published on other websites or the like. You may share the first 2 questions if you link back to this site. Translations other than English and German may be posted with full credit including the writer's name and link to this site.
---
1. How did you get into acting and what was landing your first TV role like?

I've been acting pretty much since I popped out of my mother's womb... School plays and impromptu living room performances and such. But I didn't get into acting, professionally, until I set off on my own at 18. When I got to LA, I started pounding the pavement, hustling like everyone else in this damn town.

My first job? It was the best feeling in the world... for about three days. Then it was over. And I was back to being a waiter again. Which sucked.

2. You played Cpl. Evan 'Q-Tip' Stafford on HBO's miniseries "Generation Kill". Can you tell us a little bit about the experience and your thoughts on the show?

Best job ever. A bunch of incredibly cool, wonderfully talented young guys playing with guns in the desert for 8 months. What's not to like?

It also happens to be the product I'm most proud of. I was working with my hero (David Simon) on powerful, significant material in a relevant contemporary context. Working on something like that reminds you of how meaningful and important film and television can be. It was a dream job.

3. You were in almost 80 episodes of "The Young and the Restless". How different is working on a daily soap from a weekly TV show?

As an experience, it's all pretty similar. At the end of the day, you're making believe in front of a camera. The material itself, the number of takes you get, the quality of the image... it's all what you make it.

4. How much fun is Wade on "Hart of Dixie"! Usually the question goes how much of yourself is in the character but in this case we'd like to know is there a lot of Wade in you?

It's incredibly fun. I want to be more like Wade. I suppose we feed off each other to a certain extent, teach each other things about ourselves. He reminds me how important it is not to take things too seriously.

5. Rachel Bilson and you had make out scenes early on in the season. How did you approach the love scenes in case you hardly knew her before?

How did I approach it? The same way I do whenever I make out with strangers—just put your tongue out there and move it around. Ask questions later.

6. Wade has great bromance scenes with love triangle nemesis George Tucker. Are we going to see more of that?

Absolutely. They have a great relationship which is made complicated by their mutual affection for Zoe. So on the one hand, they are good friends and on the other hand they are rivals. Which, of course, makes for fun television watching.

7. Can you tease a little about what's in store for Wade? Is Zoe the one?

I think so. I'm always rooting for Zoe and Wade. I think they belong together... As to whether or not that will happen... it's anybody's guess.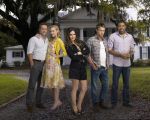 © Warner Bros. Entertainment Inc.
8. What part of working on "Hart of Dixie" do you like the most?

I love the people I work with. We've got a wonderful cast. An amazing crew. I have more fun on this job than anybody should have in their workplace.

9. Any news on a renewal? If the show isn't picked up for 2nd season, will you know soon enough to wrap up the storylines? We keep our fingers crossed anyway!

No news on renewal. We'll know by mid-May. Pray for us. I want to stay employed.

10. "Call me doctor" on "Funny or die" was awesome. Who came up with the idea? And how did you get Rachel on board? And Scott Porter for the car wash scene?

The idea was mine. I pitched it to the CW last fall. ...and they were crazy enough to give me money to make it. Scott was an easy sell - he's always down to ham it up for the camera. Rachel was a little tougher. I had to do a lot of convincing. But when she showed up on set she totally brought it. She was amazing.

11. Aside from Wade being the coolest guy on "Hart of Dixie" is there a show out there you would love to play a part in? What part and why?

"Game of Thrones"! Give me a battle ax and let me chop somebody's head off already!!!

12. What do you like to do to relax? What music and sports do you like?

I spend a lot of time outside: hiking, bicycling, running, playing on the beach. It's how I stay sane. Same with music. I'm always listening to music, seeking out new stuff. I've been collecting records for 10 years and have a pretty hefty stash of vinyl.

13. Some of your mother Joyce Maynard's novels were adapted into films, like "To Die For". Would you like to play one of your mother's characters or maybe even make a movie of one of her novels one day?

My mom's protagonists are always women. Sadly, there's never a part for me...

14. myFanbase is a website that is devoted to American television shows. Do you have one or more favorite show(s)?

"Game of Thrones". "Mad Men". "Breaking Bad". "The Wire". There's a lot of good stuff out there...

Thank you, Wilson, we wish you all the best for your future!

Nicole Oebel - myFanbase

Kommentare
Meistgelesen
Aktuelle Kommentare

18.06.2019 21:54
meine Muse ist mein Sohn, er hat immer gute und witzige...
von Gabriele Bollmann

18.06.2019 21:10
Cool
von ScottishKnight
mehr Kommentare
Verpasst keine News und Updates