The CW enthüllt Trailer für "All American: Homecoming"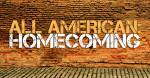 All American: Homecoming
Ab dem 21. Februar 2022 gibt's bei The CW das "All American" Spin-Off "All American: Homecoming" zu sehen, in dem GeffriMaya eine Hauptrolle übernommen hat. Vorab wurde ein Trailer veröffentlicht, den ihr euch unten ansehen könnt.

Im Fokus steht das Tennis-Talent Simone Hicks (GeffriMaya) aus Beverly Hills und ein Elite-Baseball-Spieler aus Chicago, die aufs College gehen und sich dort in den Sportmannschaften behaupten müssen. Gleichzeitig durchleben sie die Höhen und Tiefen sowie die Vorzüge des Erwachsenwerdens an einem historischen - vor allem von Afroamerikanern besuchten - College.

Die Schauspielerin ist aus "Private Practice" bekannt.
Externer Inhalt
An dieser Stelle ist Inhalt von einer anderen Website (z. B. YouTube, Twitter...) eingebunden. Beim Anzeigen werden deine Daten zu der entsprechenden Website übertragen.
Quelle: The CW
Daniela S. - myFanbase
15.12.2021 14:52
Weitere News
Meistgelesen
Verpasst keine News und Updates