VOX darf sich über tolle Quoten zum Start von "The Good Doctor" freuen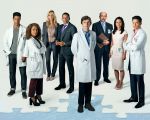 The Good Doctor
© MG RTL D / © 2017 Sony Pictures Television Inc. and Disney Enterprises, Inc. All Rights Reserved.
Am gestrigen Mittwoch startete bei VOX der ABC-Hit "The Good Doctor". Die Senderverantwortlichen dürfen sich nun über tolle Quoten freuen.

Ab 20:15 Uhr schalteten 2,35 Millionen Zuschauer ein. In der Zielgruppe zwischen den 14- bis 49-Jährigen erfreuten sich 1,04 Millionen Zuschauer an dem neuen Format und halfen VOX dabei, 11,4 Prozent Marktanteil einzufahren. Die zweite Folge um 21:15 Uhr schaffte es beim Gesamtpublikum auf 2,70 Millionen Zuschauer. In der Zielgruppe waren es 1,30 Millionen Zuschauer und insgesamt 13,6 Prozent Marktanteil.

"The Good Doctor" handelt von einem jungen Chirurgen namens Shaun Murphy (Freddie Highmore), der das Savant-Syndrom hat und einen Job in der Chirurgie des renommierten San José St. Bonaventure Hospitals erhält. Dabei kommt die Frage auf, ob eine Person, die es nicht vermag, Empathie für andere zu empfinden, das Leben ihrer Patienten retten kann.

Wenn ihr wissen wollt, wie die myFanbase-Redaktion den Piloten und die erste Staffel der Serie einschätzt, lest dazu unsere Reviews.

In den USA kehrte "The Good Doctor" am 24. September 2018 mit der zweiten Staffel zu ABC zurück.
Externer Inhalt
An dieser Stelle ist Inhalt von einer anderen Website (z. B. YouTube, Twitter...) eingebunden. Beim Anzeigen werden deine Daten zu der entsprechenden Website übertragen.
Quelle: VOX
Daniela S. - myFanbase
11.10.2018 11:11
Weitere News
mehr News
Meistgelesen
Verpasst keine News und Updates