Gewinnspiel: Mike and Dave Need Wedding Dates
Die feierwütigen Brüder Mike (Adam Devine) und Dave (Zac Efron) schalten eine Online-Anzeige, um das perfekte Date (Anna Kendrick, Aubrey Plaza) für die Hochzeit ihrer Schwester auf Hawaii zu finden. Die beiden freuen sich auf einen wilden Ausflug, doch ihre Dates entwickeln sich zu einem unkontrollierbaren Duo, das sie nicht nur austrickst, sondern auch gnadenlos unter den Tisch feiert.

Externer Inhalt
An dieser Stelle ist Inhalt von einer anderen Website (z. B. YouTube, Twitter...) eingebunden. Beim Anzeigen werden deine Daten zu der entsprechenden Website übertragen.
Zum Kinostart von "Mike and Dave Need Wedding Dates" am 1. September 2016 verlosen wir ein Fanpaket bestehend aus zwei Kinotickets, zwei Filmpostern, zwei Hawaiiketten und einem Hawaiihemd.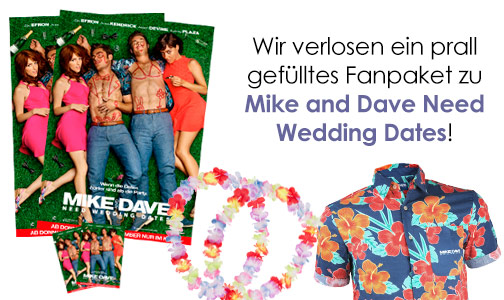 © 2016 Twentieth Century Fox
Teilnahmeschluss: 4. September 2016

Das Gewinnspiel ist beendet.

Meistgelesen
Aktuelle Kommentare
Verpasst keine News und Updates