Stacey Oristano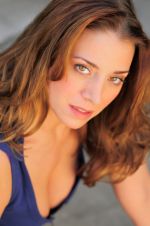 Stacey Oristano
Die in Arlington, Texas, geborene Schauspielerin Stacey Oristano kam schon früh mit ihrem heutigen Beruf in Berührung. Ihr Vater war ein Theaterschauspieler und brachte seine Tochter oft mit zu Auftritten. Schon mit sechs Jahren war ihr bewusst, dass sie in die Unterhaltungsbranche einsteigen wollte.

Zu Beginn ihrer Karriere fokussierte sich Stacey besonders auf das Theater. Um ihre Karriere voran zu treiben, ging sie an die "The Rose Bruford School for Speech and Drama" in London und erhielt den "Bachelor of Fine Arts" in Schauspiel mit Fokus auf Klassisches Theater. Nebenbei spielte sie in einigen Theaterstücken, unter anderem die Annelle in "Magnolien aus Stahl".

Nach ihrer Rückkehr in die USA konzentrierte sie sich nun mehr auf Fernseh- und Sprechrollen. Ihr Durchbruch kam mit der Aufnahme in den Cast von "Friday Night Lights". Nach ihrem Engagement übernahm Stacey weitere Rollen in bekannten Fernsehserien wie beispielsweise "In Plain Sight - In der Schusslinie", "New in Paradise" und "Shameless - Nicht ganz nüchtern". 2018 war sie als Krankenschwester Frankie Shavelson in der 15. Staffel der ABC-Dramaserie "Grey's Anatomy - Die jungen Ärzte" zu sehen.

Neben der Schauspielerei liebt Stacey Musik, sie spielt Gitarre und Klavier. Sie engagiert sich für verschiedene gemeinnützige Organisationen wie die Matthew Shepard Foundation.

Sophie Blumengarten & Daniela S. - myFanbase
Ausgewählte Filmographie (Schauspieler)
2018
Shameless - Nicht ganz nüchtern (TV) als Trina
Originaltitel: Shameless (TV)
2018
Grey's Anatomy - Die jungen Ärzte (TV) als Frankie Shavelson
Originaltitel: Grey's Anatomy (TV)
2016
Gilmore Girls: Ein neues Jahr (#8.04 Herbst) (TV) als Allie
Originaltitel: Gilmore Girls: A Year in the Life (#1.04 Fall) (TV)
2012 - 2013
New in Paradise (TV) als Truly Stone
Originaltitel: Bunheads (TV)
2012
In Plain Sight - In der Schusslinie (TV) als Eve Wilson
Originaltitel: In Plain Sight (#5.04 The Merry Wives of Witsec) (TV)
2006 - 2011
Friday Night Lights (TV) als Mindy Collette
Originaltitel: Friday Night Lights (TV)
2011
Criminal Minds (TV) als Anisa Gold
Originaltitel: Criminal Minds (#6.14 Sense Memory) (TV)
2009
CSI - Den Tätern auf der Spur (TV) als Diana
Originaltitel: CSI: Crime Scene Investigation (#9.22 The Gone Dead Train) (TV)
2007
Sasami mahô shôjo kurabu (TV) als Honoka Iwakura
Originaltitel: Sasami mahô shôjo kurabu (TV)
2006
XXXHOLiC (TV) als Highschoolmädchen
Originaltitel: XXXHOLiC (#1.01 Hitsuzen & #1.02 Kyogen) (TV)
2006
School Rumble: Second Semester (TV) als Toikio
Originaltitel: School Rumble: Second Semester (TV)
2006
Ghost Hunt (TV)
Originaltitel: Ghost Hunt (TV)
2004
Tough Crowd with Colin Quinn (TV) als Französisches Mädchen
Originaltitel: Tough Crowd with Colin Quinn (#1.2054) (TV)
2003
Chappelle's Show (TV) als Freundin
Originaltitel: Chappelle's Show (#1.09 Episode 1.09) (TV)
Steckbrief
| | | |
| --- | --- | --- |
| Geburtsname: | | Stacey Joan Oristano |
| Geburtstag | | 06.05.1979 |
| Geburtsort | | Arlington, Texas, USA |
Aktuelle Kommentare
Verpasst keine News und Updates