Mark Rosman
Perfekte Mann, Der
Is it all too good to be true?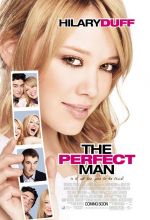 Inhalt

Die junge Holly Hamilton (Hilary Duff) musste wegen ihrer Mutter schon viel zu oft in ihrem Leben umziehen, denn immer nach einer zerbrochenen Beziehung sucht ihre neurotische Mutter das Weite.

Damit sie endlich Mal ihren Abschluss an einer Schule vollenden kann, erfindet Holly den perfekten Mann, einen heimlichen Verehrer, für ihre Mutter. Die ist von dem geheimnisvollen Fremden geradezu hingerissen und möchte nichts lieber, als ihn kennen zu lernen, was jedoch schwierig werden könnte. Zusammen mit ihrer Schulfreundin Amy (Vanessa Lengies) und ihrem neuen Schwarm Adam (Ben Feldman) versucht Holly also, alles so zu vertuschen, dass es keine Möglichkeit gibt, dass ihre Mutter ihren Verehrer kennen lernen kann, bevor sie ihren Abschluss hat.

Kritik

Ich denke "Der Perfekte Mann" ist alles andere als ein kitschiger Teeniefilm. Mit viel Witz, Charme, Gefühl, aber auch der nötigen Portion Ernsthaftigkeit beschreibt er die Geschichte einer Mutter, die nie gelernt hat, sich ihren Problemen zu stellen und Menschen wirklich in ihr Leben zu lassen und die schließlich vor der Frage steht, ob sie es für ihre Kinder schaffen kann, sich zu ändern.

Es ist mal etwas anderes für Jungschauspielerin Hilary Duff, denn dieser Film ist ernster, als ihre bisherigen. Natürlich gibt es auch viele Faktoren, die für sie bekannt sind, wie ihr Humor in unangebrachten Situationen, aber was sind wir anderes von Hilary gewöhnt?

Der Soundtrack ist ebenfalls ausgesprochen gut. Es gibt rockige Songs, aber auch schön langsame, die einen zum Träumen bringen. Man kann sich wirklich in vielen Hinsichten mit den Songs und der Storyline des Films identifizieren, auch da die Lieder wirklich gut auf den Film angepasst sind.

Sicher haben einige von uns es schon erlebt, dass die Eltern Probleme haben, vor allem, wenn sie alleinerziehend sind. Doch für ihre Kinder versuchen sie es, so gut wie es geht, den Alltag so einfach wie möglich zu halten, sodass ihr Leben nicht davon betroffen wird. Zwar gelingt dies nicht immer, doch ein Versuch ist es wert und das wird in diesem Film wirklich ausgesprochen gut dargestellt.

Natürlich ist es wie in jedem Teenifilm so, dass der Hauptcharakter sich verliebt und es irgendwie auf die Reihe bringen muss, diese Beziehung auf Trapp zu halten, also kommt unsere gute Romantik auch hier nicht zu kurz. Doch an manchen Stellen des Films gibt es ein paar kleine Ungereimtheiten, die jedoch für den Verlauf irrelevant sind, die Geschichte an einigen Stellen jedoch ein bisschen merkwürdig erscheinen lässt. Alles in allem jedoch, ein wirklich guter, ernster Film für die ganze Familie.

Fazit

Nette Unterhaltung mit überzeugenden Schauspielern. Ein schöner Film für einen netten Familienabend!


Sanny Binder - myFanbase
08.08.2008
Weitere Informationen
Originaltitel: The Perfect Man
Veröffentlichungsdatum (USA): 15.06.2005
Veröffentlichungsdatum (
DE
): 01.12.2005
Länge: 100 Minuten
Regisseur: Mark Rosman
Drehbuchautor: Michael McQuown & Heather Robinson
Genre: Romance, Komödie, Familie
Jetzt bestellen
DVD jetzt bei Amazon.de
bestellen
Aktuelle Kommentare

18.01.2022 19:06
Ich hab sie ja auch vor allem durch die Golden Girls...
von Daniela

17.01.2022 11:01
Die Castingnews zu "Shadow & Bone" haben mich echt...
von Lena
mehr Kommentare
Verpasst keine News und Updates