Rob Benedict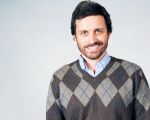 Robert Patrick Benedict wurde in Columbia, MO geboren und begann schon früh mit der Schauspielerei. Er war in seiner Familie das jüngste von vier Kindern und musste sich nie vieler Worte bedienen: seine Geschwister verstanden ihn alleine anhand seiner Gestik und Mimik. Dies waren seine schauspielerischen Anfänge.

Sein erstes Engagement bekam er an dem lokalen Theater, das seine Eltern führten. Es blieb nicht lange bei einfachen Statistenrollen, Rob spielte in vielen Stücken die Hauptrolle und beschloss, die Schauspielerei zu seinem Beruf zu machen.

Er begann ein Schauspiel-Studium an der Northwestern University in Chicago. Als er seinen Abschluß machte, hatte er eine Ein-Mann-Show, basierend auf dem Leben von James Dean, bereits fertig geschrieben und führte sie nun erfolgreich in Chicago auf. Aufrund des großen Erfolgs ging Robert mit der Show nach Los Angeles.

Fünf Jahre später ist Robert Partrick Benedict nun ein sehr vielversprechender Schauspieler. Den meisten dürfte er durch seine Rolle des Richard Coad in der Serie "Felicity" bekannt sein. Doch auch auf der Leinwand ist er kein Unbekannter. Rob war an der Seite von Joey Lawrence in dem Film "Tequila Body Shots" zu sehen. In "Bad City Blues" spielte er gemeinsam mit Dennis Hopper.

Außerdem stand er in den Theaterstücken "Taming of the Shrew" und "The Miracle Worker" auf der Bühne. Jeden Monat wirkt er in seiner selbstproduzierten Stand-up Comedyshow "Die Laughing" in Los Angeles mit.
Rob ist Mitglied der Alternativ-Rock-Pop-Band "Louden Swain", die Anfang des Jahres 2003 ihr erstes Album herausgebracht haben.

Sandra G. - myFanbase
Ausgewählte Filmographie (Schauspieler)
2009 - 2020
Supernatural (TV) als Chuck Shurley
Originaltitel: Supernatural (TV)
2016 - 2017
Kings of Con als Rob Bennett
Originaltitel: Kings of Con (TV)
2015
Masters of Sex als Jonathan Laurents
Originaltitel: Masters of Sex (TV)
2013
Susanna als Peter
Originaltitel: Susanna (TV)
2012
Touch (TV) als Walt King
Originaltitel: Touch (#1.03 Safety in Numbers und #1.12 Gyre, Part 2) (TV)
2010
A Little Help als Paul
Originaltitel: A Little Help
2010
Group Sex als Donny
Originaltitel: Group Sex
2010
Law & Order: Los Angeles (TV) als Adam Yarborough
Originaltitel: Law & Order: Loas Angeles (#1.05 Pasadena) (TV)
2009
The Group als Donny
Originaltitel: The Group
2008 - 2009
Head Case (TV) als Jeremy Berger
Originaltitel: Head Case (TV)
2009
State of Play - Stand der Dinge als Milt
Originaltitel: State of Play
2009
CSI: Den Tätern auf der Spur (TV) als Brian Morley
Originaltitel: CSI: Crime Scene Investigation (#9.17 No Way Out) (TV)
2009
Still Waiting... als Calvin
Originaltitel: Still Waiting...
2009
Call Back als Levi
Originaltitel: Call Back
2008
Burn Notice (#2.06 Bad Blood) (TV) als Eddie Ash
Originaltitel: Burn Notice (#2.06 Bad Blood) (TV)
2008
Say Goodnight als Leroy
Originaltitel: Say Goodnight
2008
Dr. House (#4.14 Folgenreich) (TV) als Dr. Jaime Conway
Originaltitel: House M.D. (TV)
2008
Dirt (#2.01 Welcome to Normal) (TV) als Keith Straub
Originaltitel: Dirt (#2.01 Welcome to Normal) (TV)
2007
The cantina bar tales als Leroy
Originaltitel: The cantina bar tales
2007
Sex and Death 101 als Bow-Tie Bow
Originaltitel: Sex and Death 101
2005 - 2006
Nemesis - Der Angriff (TV) als Lucas Pegg
Originaltitel: Threshold (TV)
2005
Alias - Die Agentin (TV) als Brodien
Originaltitel: Alias (TV)
2005
Waiting als Calvin
Originaltitel: Waiting
2005
Fußballfieber - Elfmeter für Daddy als Beantown Employees
Originaltitel: Kicking & Screaming
2002 - 2003
Birds of Prey (TV) als Gibson Kafka
Originaltitel: Birds of Prey (TV)
2003
My Dinner with Jimi als Donovan
Originaltitel: My Dinner with Jimi
2003
Two Days als Scott
Originaltitel: Two Days
2002
Meine ersten zwanzig Millionen als Willy
Originaltitel: The First $20 Million is always the hardest
1998 - 2002
Felicity (TV) als Richard Coad
Originaltitel: Felicity (TV)
2000
Buffy - Im Bann der Dämonen (TV) als Jape
Originaltitel: Buffy the Vampire Slayer (TV)
1999
Bad city blues als Tommy
Originaltitel: Bad city blues
1999
Tequila body shots als Ted
Originaltitel: Tequila body shots
1997
Faifax Fandango
Originaltitel: Faifax Fandango
Steckbrief
| | | |
| --- | --- | --- |
| Geburtstag | | 21.09.1970 |
| Geburtsort | | Columbia, Missouri, USA |
Bereiche
Aktuelle Kommentare

26.10.2021 23:34
Also ich kann da Sheldon sehr gut verstehen! Vor...
von Sonia

26.10.2021 17:12
Was war ich doch da positiv überrascht, als auf einmal...
von Lena
mehr Kommentare
Verpasst keine News und Updates