Richard Linklater
School of Rock
"It's a long way to the top, if you wanna Rock'n'Roll..."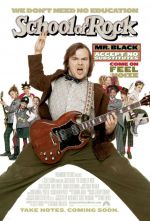 Inhalt

Der Lead-Gitarrist Dewey Finn (Jack Black) wird kurz vor dem "Battle of the Bands" von seiner eigenen Band rausgeworfen. Zum Glück darf der frustrierte Rocker bei Ned Schneebly (Mike White) wohnen, einem guten Freund. Neds Freundin möchte Dewey aber so schnell wie möglich aus dem Haus haben, also muss er versuchen, Geld zu verdienen. Als Dewey eines Tages ein Telefonat für Ned entgegen nimmt, in dem diesem eine Stelle als Aushilfslehrer an einer Elite-Grundschule angeboten wird, nimmt er den Job an und gibt sich als Ned aus. Als er auch noch erkennt, dass seine Schüler Musiktalente sind, beschließt er kurzerhand, sie auf den Musikwettbewerb vorzubereiten, mit ungeahnten Folgen...

Kritik

In den USA war "School of Rock" ein Überraschungserfolg und ich kann auch absolut nachvollziehen, warum. Die Story ist zwar in wenigen Sätzen erklärt und diese Komödie bietet keine tiefgründige Geschichte, aber das Gesamtergebnis zählt ja. Und dieses kann sich durchaus sehen lassen, was größtenteils dem brillanten Jack Black zu verdanken ist. Wer ihn bisher nicht kannte, wird nach diesem Film seinen Namen so schnell nicht mehr vergessen. Es gibt wenige Schauspieler, die zu hundert Prozent mit ihrer Rolle verschmelzen und diese dann so überzeugend auf die Leinwand bringen. Jack Black ist zweifellos einer dieser Schauspieler, dem diese Leistung gelingt.

Abgesehen von Jack Black haben die Kinder, die übrigens alle ihre Instrumente selbst spielen und im realen Leben ebenso Musiker sind, ihre Rollen glaubwürdig dargestellt. Ebenfalls gut besetzt ist die konservative Schulleiterin Mullins und Mike White, der das Drehbuch schrieb und auch Dewey Finns Freund im Film darstellt.

Einen Haken gibt es aber doch. Es ist offensichtlich, dass Dewey Finns Lüge bald aufgedeckt wird, ebenso kann man auch einige andere Szenen vorhersehen und es gibt kaum Überraschungsmomente. Aber das macht der Film durch die vielen witzigen Szenen und amüsanten Charaktere wieder wett.

Zur Musik bleibt eigentlich nicht viel zu sagen, außer, dass es auf den Musikgeschmack drauf ankommt. Wer gerne Rock hört, dem werden die Lieder mit Sicherheit gefallen und wird voll auf seine Kosten kommen. Für die Nicht-Rocker ist die Musik eventuell nicht ganz so ansprechend, aber man kann es sich schon anhören.

Fazit

Ein unterhaltsamer und lustiger Film, der jede Menge Spaß mit sich bringt.


Tanya Sarikaya - myFanbase
09.10.2008
Weitere Informationen
Originaltitel: The School of Rock
Veröffentlichungsdatum (USA): 03.10.2003
Veröffentlichungsdatum (
DE
): 05.02.2004
Länge: 108 Minuten
Regisseur: Richard Linklater
Drehbuchautor: Mike White
Genre: Komödie
Jetzt bestellen
DVD jetzt bei Amazon.de
bestellen
Darsteller/Charaktere
Jack Black
als Dewey Finn
Adam Pascal
als Theo
Lucas Papaelias
als Neil
Chris Stack
als Doug
Sarah Silverman
als Patty Di Marco
Mike White
als Ned Schneebly
Lucas Babin
als Spider
Jordan-Claire Green
als Michelle
Aktuelle Kommentare

09.05.2021 21:02
Die Charakterbeschreibungen sind vor Serienstart auf...
von Lena

09.05.2021 11:34
Ich bin mir auch nicht so recht sicher, was ich vom...
von Denise
mehr Kommentare
Verpasst keine News und Updates