Field Cate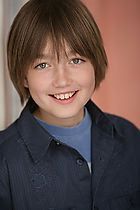 Field Cate
Geboren am 22. Juli 1997 in Burlington, Vermont, ist Field Adrianus Cate schon jetzt sehr gut im Schauspielbusiness dabei. Seine Vorbilder sind immerhin bekannte Hollywoodakteure wie Tom Cruise und Will Ferrell.

Fields Vorfahren stammen aus den Niederlanden und Frankreich. Er selbst zog mit seiner Familie im Alter von fünf Jahren von Vermont nach Kalifornien und begann dort Schauspielkurse für Kinder zu besuchen und in Theaterstücken aufzutreten. Schnell erkannte er, dass er die Schauspielerei professionell betreiben wollte und wurde von einer Schauspielagentur unter Vertrag genommen. Neben zahlreichen Werbespots, unter anderem für McDonald's, erhielt er schließlich erste Rollen in Serien wie "Passions" und "Without a Trace". 2007 wurde er für den Part des jungen Ned in "Pushing Daisies" gecastet.

Field liebt Tiere und hat mehrere Katzen und Geckos. Er lebt zusammen mit seiner Mutter und seinem jüngeren Bruder.

Maret Hosemann - myFanbase
Ausgewählte Filmographie (Schauspieler)
2010
Schatten der Leidenschaft (TV) als Eric
Originaltitel: The Young and the Restless (TV)
2007 - 2009
Pushing Daisies (TV) als der junge Ned
Originaltitel: Pushing Daisies (TV)
2009
Santa Buddies als Buddha (Stimme)
Originaltitel: Santa Buddies
2008
Cold Case - Kein Opfer ist je vergessen (TV) als der junge John Smith
Originaltitel: Cold Case (#5.15 The Road) (TV)
2007
Seven's Eleven: Sweet Toys als Sonny
Originaltitel: Seven's Eleven: Sweet Toys
2006
Chloe's Prayer als Owen
Originaltitel: Chloe's Prayer
2006
Untold Stories of the ER (TV) als Kevin Welch
Originaltitel: Untold Stories of the ER (TV)
2006
Without a Trace - Spurlos verschwunden (TV) als Petros Marku
Originaltitel: Without a Trace (#5.05 The Damage Done) (TV)
2004
Passions (TV) als Ethan Winthrop Jr.
Originaltitel: Passions (#1.1383) (TV)
Steckbrief
| | | |
| --- | --- | --- |
| Geburtstag | | 22.07.1997 |
| Geburtsort | | Burlington, Vermont, USA |
Bereiche
Aktuelle Kommentare

17.01.2021 22:36
Das hilft dann schon mal weiter, weil Emilio in Episode...
von Catherine

16.01.2021 10:31
"denn die inhaltliche Dichte ist durch die Vielzahl von...
von Irina S.
mehr Kommentare
Verpasst keine News und Updates