Exclusive interview with Celina Jade
April, 2013 | Celina Jade plays Yao Fei's daughter Shado on the CW hit show "Arrow". But not only Shado is a skilled martial artist, Celina Jade is, too. myFanbase had the chance to catch up with the new addition to Team Island on "Arrow" and she talked about what role Shado will fill in Oliver's life on the island, what working with her castmates is like and she also tells a little about Sebastian Vettel.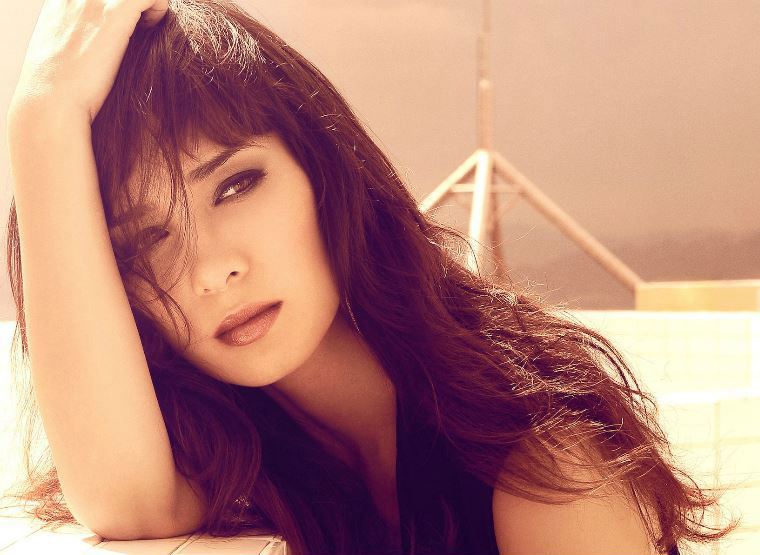 ---
Note: © myFanbase 2013 - The interview is exclusive to myFanbase and may not be published on other websites or the like. You may share the first two questions if you link back to this site. Translations other than English and German may be posted with full credit including the writer's name and link to this site.
---
Looking at your bio you really are role model material! You've worked with your different talents as a singer, martial artist and model and you have a Management degree. How did you get into acting?

Thank you for your wonderful compliment. To be honest, I never knew I'd end up an actor. My passion as a child was always singing. I love music because it's such a wonderful medium to connect people, taking away their sense of isolation and bringing a sense of unity to communities and like-minded people. I pursued a music career from a young age releasing my first CD at 15 years old, but took a hiatus to finish my education as I was worried that I was not becoming somebody I admire, singing songs that weren't expressing much and not really adding value to anything. It was after graduating from university that I signed to a subsidiary of EMI called Gold Typhoon in HK in preparation to release my first self-written album. My manager at the time, just randomly asked me one day if I wanted to audition for a movie. He said, "Well, the chances are next to zero because it's the lead role of a martial arts film and thy have several people in mind, but since you fight why not give it a go." Well long story short, I got the lead of that movie – "Legendary Assassin"! It was after he confirmed this that I freaked out. I didn't want to let my whole team down by ruining a perfectly fine film after they'd put their trust in me to carry it. So I really began to delve into acting. I fell in love straight away. I found the same satisfaction in acting as I did in music. Like music, it's another wonderful connecting tool. I haven't stopped doing film since then! Oh... and now TV! Woohoo!

"Arrow" keeps the viewers on their toes on what to expect of the "Green Arrow" comic characters that are introduced to the show. Do you base your performance of Shado on the comic character or are we gonna see a very different Shado?

I think you will see a mixture of both. Arrow the series is based on the comics but the producers have really taken their own creative liberties to create something amazing which works for television. I personally took what I could from the comics in terms of Shado's character and background, modified it for the series (her backstory's a little different) and added my own interpretation of her as well. I try to portray her different shades even though they are subtle - a mixture of strength, but also vulnerability even though she's learned how to conceal that very well with her experiences.

In the comics Shado is a longbow huntress. Now that Oliver meets her on the island, is she going to teach Oliver a thing or two about martial arts?

Absolutely! It's a nice dynamic between Slade, Oliver and Shado. Slade has pretty much put Oliver in the lost causes category when it comes to fighting. Shado however, sees potential in him and decides to give training him a go. Slade is dubious of the results, but Shado has her own way of getting Oliver there. Her teaching is more of a philosophy and mind disciple rather than hard combat technique. That's how she was trained by her father Yao Fei. As the series progresses, you'll find that Shado taught Oliver one of his signature archery moves. She believes in him... and I truly believe that many things can happen when you feel the support of other people's faith in you. She helps him find the hero within.

The authors of "Arrow" introduced Shado as a lawyer who comes to the island to safe her father Yao-Fei. How does a lawyer end up being a such a skilled archer and fighter?

Well, if you combine the one child policy in China and a military general as high ranking and capable as Yao Fei having a daughter. You can figure it out easily. She's the son he never had!

Will we get to know the secret behind Shado's tattoo - the one that Oliver has in the present, too - within this season?

That's a good question. The producers are great at keeping us on our toes. I haven't received the script to that part yet. :-) It'll be a pleasant surprise for all of us.

Your scenes are mostly with Stephen Amell and Manu Bennett. How is the atmosphere on set having those two guys around? They both seem very passionate about their work but also their connection to the fans.

They are both really great! Professionally, I learn a lot from them simply by observing their work. Each has their own method and takes their craft extremely serious. I love how Manu runs around set before each scene to get himself pumped up. He does a bunch of push-ups as we're standing by. Sometimes I think to myself, "Celina, maybe you should be doing some push-ups too." Ha! Stephen is a really caring guy, he takes care of every one on set... me included. He voices out any potential risks when it comes to stunts so that there are no slip-ups on my part like falling on a rock or slipping on slippery grounds. He makes the atmosphere congenial and comfortable... which helps a lot with my acting I believe.

Slade Wilson shot Shado a very approving and impressed look when he saw her fighting skills. Two characters to strong-willed and determined would make a great couple! Or is Oliver gonna be the one who catches her eye?

Haha! Wait and see… Wait and see... ;-)

You did some feature films but Shado on "Arrow" is your first recurring role on a TV show, right? What was it about TV shows or this particular one that caught your interest? 


Indeed it is. It's always been dream of mine to play a comic book character. Shado is an incredible role. She's a sensei, mentor, fighter and such a strong female character that she can rise up and stand equal ground to a strong alpha male like Slade. I'm honored to be invited to play her. And I love the fact that she's the first one to see Oliver's potential, to bring strength out of him regardless of the circumstance or any self-doubt he may have.

You worked with our very own Formular 1 champion Sebastian Vettel. Please tell us a little bit about what working with him was like. How did he hold his own in acting and martial arts?


Oh Seb! What a great guy! Seb is super humorous. It was a blast working with him. If you see the behind the scenes video on YouTube on "Drive of the Dragon," you'll see what I mean. He's not just quick on the track, he's quick-witted and an extremely fast learner. He picked up the martial arts in no time. I can't say I did as well learning how to race as he did in martial arts though... Definitely didn't break any records there…haha. Although I think my reckless driving did give him a scare or two. He really is incredibly talented, and a triple world champion now! Well-deserved! I'm happy for Germany too!

What's your biggest motivation in life?

To live a meaningful and virtuous life and hopefully in doing so bring some happiness and positivity to those who are around me.

myFanbase is an online magazine about U.S. television shows. Do you have one or more favorite show(s)?

"Arrow". That's all I have time to watch nowadays! ;-)

Thank you, Celina, we wish you all the best for your future projects!

Nicole Oebel - myFanbase

Aktuelle Kommentare

19.03.2019 15:30
Bin bei Folge 5 und mir gefällt die Serie bisher sehr...
von krissi

19.03.2019 11:26
Mir hat gerade diese Kammerspiel-artige Atmosphäre...
von snookerleery
mehr Kommentare
Verpasst keine News und Updates