Chaz Bono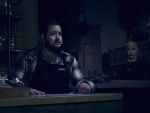 Chaz Bono, American Horror Story: Cult
© 2017 Fox and its related entities. All rights reserved.; Frank Ockenfels/FX
Am 4. März 1969 kam Chaz Bono unter dem Namen Chastity Sun Bono als einzige Tochter von Sonny Bono und der Sängerin Cher zur Welt. Chaz hatte keine einfache Kindheit. Die Eltern waren Berühmtheiten und er fühlte sich nie als jemand, der ein weibliches Geschlecht haben sollte, versuchte aber dennoch damit zu leben.

1990 wurde Chastity von der Klatschpresse als lesbisch geoutet und ging bis 2008 offen damit um. Allerdings entschloss er sich 2008 dazu, als transsexuell zu leben und ging ein Jahr später sogar noch einen Schritt weiter und ließ eine Operation durchführen, die ihn zum vollwertigen Mann werden ließ. Seine Mutter Cher ging mit ihm diesen Weg, ohne Vorbehalte dagegen vorzubringen. In ihrer Biografie schrieb sie, wie froh sie sei, dass Chaz nun der sein kann, der er immer sein wollte.

Im Mai 2010 wurde von einem Richter in Santa Monica der Antrag freigegeben, dass Bono sich nicht nur rechtlich Chaz nennen darf, sondern dass er auch rechtlich ein Mann ist. Nachdem er diesen Weg gemeistert hat, nahm Chaz 2011 an der 13. Staffel der ABC-Show "Dancing with the Stars" teil und machte so nochmals auf sich aufmerksam und sorgte dafür, dass die Schwulen- und Lesbenbewegung mehr Ansehen bekam.

Chaz Bono ist ebenso auch als Autor bekannt und schrieb mehrere Bücher. Neben dem Schreiben ist er auch seit 2016 aktiv als Schauspieler. Nachdem er als Reverend Rydale im Dauerbrenner "Reich und schön" zu sehen war, wurde Serienschöpfer Ryan Murphy auf ihn aufmerksam und besetzte Chaz in der sechsten Staffel von "American Horror Story" für eine Nebenrolle. Murphy ließ es sich dann nicht nehmen und verpflichtete ihn auch für die siebte Staffel, die wie gewohnt in Deutschland zuerst beim Pay-TV-Sender Fox zu sehen ist.

Chaz Bono hat mit Elijah Allman einen Halbbruder und ist der Enkel von Georgia Holt sowie der Halbneffe von Georganne LaPiere.

Daniela S. - myFanbase
Ausgewählte Filmographie (Schauspieler)
2016 - 2017
American Horror Story (TV) als Gary K. Longstreet / Lot Polk / Brian Wells
Originaltitel: American Horror Story (TV)
2016
Where the Bears Are (TV) als Gavin Kelly
Originaltitel: Where the Bears Are (TV)
2016
Reich und schön (TV) als Reverend Rydale
Originaltitel: The Bold and the Beautiful (TV)
2013
The Secret Life of the American Teenager (TV) als Chaz
Originaltitel: The Secret Life of the American Teenager (#5.13 To Each Her Own) (TV)
1976 - 1977
The Sonny and Cher Show (TV) als regelmäßiger Darsteller
Originaltitel: The Sonny and Cher Show (TV)
Steckbrief
| | | |
| --- | --- | --- |
| Geburtsname: | | Chastity Sun Bono |
| Geburtstag | | 04.03.1969 |
| Geburtsort | | Los Angeles, Kalifornien |
Bereiche
Aktuelle Kommentare

25.09.2021 14:14
Dann geht es dir definitiv besser als mir :D Aber ja,...
von Daniela
25.09.2021 01:42
Die Info zum Film stimmt:...
von Daniela
mehr Kommentare
Verpasst keine News und Updates