Alpha Con 2014 bei Wien
Momentaufnahmen
---
The photos are © myFanbase/Nicole Oebel. All Rights Reserved. All images on this website are subject to the copyright of myFanbase. These images may not be reproduced, distributed, modified or reposted to other websites without the express written permission of myFanbase.
---
Auch wenn die Klimaanlage uns in der Glaspyramide im Stich gelassen hat, so war die erste Alpha Con voller kleiner magischer Momente, die das Wochenende fraglos unvergesslich machen, und einige dieser kleinen Momente sollen hier zur Erwähnung kommen. Da war ein Daniel Sharman, der sich bei seiner Fotosession jedem Fan namentlich und per Handschlag vorstellte und auch nach dem Namen des Gegenübers fragte, bevor er für die romantischsten Posen des Wochenendes zur Verfügung stand. Da war Convention-Neuling Dylan O'Brien, der bei seinem Shooting für lustige Posen wie Backenkneifen zu haben war, sich darüber aber auch unzählige Male vor Lachen ausschüttete, sobald das Bild im Kasten war. Da waren Dylan und Daniel zusammen, die beim Gruppenshooting der Holländerin im Rollstuhl je ein Bein zur Verfügung stellten, um ihr auf ihrem geteilten Schoß Platz zu bieten. Da waren verspielte Momente, wie vor einer der Autogrammstunden, als Tyler Hoechlin, Ian Bohen, JR Bourne und Jamie Christlow Zeit und Platz nutzen, um ein Rennen zu veranstalten, bei dem zwei von ihnen die anderen zwei bei den Händen nahmen und diese mit beiden Füßen auf dem Boden durch die Halle zogen. Da war ein Linden Ashby, der sich nach der Krankengeschichte der Holländerin im Rollstuhl erkundigte und sie eindringlich bat, ihn über das Ergebnis ihrer anstehenden Operation zu informieren. Ebenso wie Daniel sich dieses Detail vom einen auf den anderen Tag gemerkt hatte und ihr alles Gute für diese OP wünschte.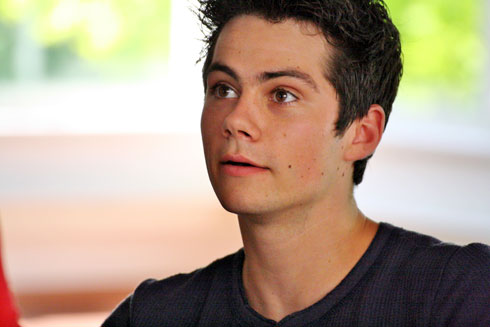 Dylan O'Brien, Alpha Con 2014
© myFanbase/Nicole Oebel
Da war ein wie immer in bester Entertainerlaune aufgelegter Nathaniel Buzolic, der einen der rar verteilten Jungs im Publikum spontan in eine Runde Herzblatt verwickelte und sich zu ihm ins Publikum stellte, um ihn zu seinen Qualitäten und Suchkriterien zu befragen. Auf dem Flur waren die meisten der Stars im Vorbeigehen für eine schnelle kleine Umarmung zu haben, so auch Daniel, und auf einen entsprechenden Kommentar seines Bodyguards bekam auch dieser in einem solchen Moment spontan eine Umarmung des liebenswerten Briten. Auch durfte man erleben, wie die Stars bei der Blacklightparty erschienen und Daniel sich mit JR auf die Tanzfläche begab und ein herrlich witziges Bild abgab, als er neben dem unbeweglichen Fels in der Brandung - seinem Bodyguard - ein wenig tanzte. Und zu guter Letzt durften wir erleben, wie Tyler, Ian, JR und Daniel einander bei der Closing fest im Arm hielten und JR Daniel dabei unterm Arm kitzelte, während Tyler mit wunderschönen Worten darlegte, wie überwältigt sie seien, von uns Fans zu hören, was für eine Inspiration sie für uns sind, dass aber auch in jedem von uns das Potenzial stecke, eine ebensolche Inspiration für andere zu sein. Bei so vielen wunderbaren Menschen, wie ich sie auf dieser Convention kennenlernen durfte, kann ich das nur bestätigen!

Nicole Oebel - myFanbase

Kommentare
Meistgelesen
Aktuelle Kommentare

15.10.2021 12:56
Yay! Noch mehr für die Festplatte :-D hänge noch total...
von Sonia

14.10.2021 22:20
Endlich hatten wir Zeit weiterzuschauen und sind nun...
von Chili vanilli
mehr Kommentare
Verpasst keine News und Updates