Exclusive interview with Osric Chau
Dec 14, 2012 | Osric Chau became part of the "Supernatural"-universe as the young prophet Kevin Tran. In this interview he talks about how he almost missed the casting for the role, how he feels about the fan base and how he landed the part in Wu-Tang Clan rapper RZA's directorial debut "The Man with the Iron Fists".

---
Note: © myFanbase 2012 - The interview is exclusive to myFanbase and may not be published on other websites or the like. You may share the first two questions if you link back to this site. Translations other than English and German may be posted with full credit including the writer's name and link to this site.
---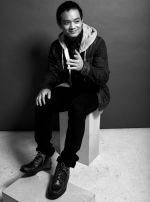 Osric Chau
© John Agcaoili Photographer, Charmaine Adrina & John Nguyen Stylist, Ivadell Vida MUA, Mary Craig Hairstylist,
www.dsotm-us.com
1. How did you get into acting?

My mom put me in as many different classes as she could when I was young. She stumbled upon an acting teacher and I ended up taking part in that class. One day my teacher heard about a casting call looking for 8 year old kids and being that there weren't many of them she asked my mom if she could take me in. I did well enough to be 2nd choice and so my teacher introduced me to her agency and I'm still with them to this day.

2. How did the casting for the part of Kevin go? Did you know the character were to come back in season 8?

The casting was such a last minute thing. I was only in Vancouver for a week and was almost about to miss it because I had to rush back to LA for another audition and my flight was already booked before the audition. After speaking with my agent, I changed the flight, made both auditions and ended up booking both roles. That was a crazy week. I did not know that I was coming back till we finished season 7, and I am ever so grateful that I am.

3. You are trained in martial arts. Is there anything in terms of stunts you would love to do on "Supernatural"?

I would love to do an action sequence. Physical acting is my favorite. Another chase scene would be fun with some obstacles. Or maybe we can do a body swap episode where I swap with Dean. Just think of how fast and effective he could be with a smaller body and his battle experience!

4. In season 5 we got to see what some of the characters' heaven looks like. What would your perfect heaven look like?

One of my favorite things in life is helping hard working people achieve their dreams and goals. I'm not extremely religious, but if we're talking about heaven and I try to generalize it some, I would say that my "heaven" would actually be in hell, hanging out and helping people get to heaven. The success in that would be the heaven.

5. What aspect of being a part of "Supernatural" now do you like most?

The fans. Totally unexpected and it really is starting to feel more like a family than a fan base. It's weird, but it's awesome. I love the fans.

6. Asylum 10 in Birmingham will be the first fan convention you'll be attending, right? What do you expect from it? Have you had the possibility to talk with other actors about this experience?

I'm trying my best not to have any expectations. I have spoken to the other actors about it and their stories are crazy for the most part. But I'll be expecting to meet fans up close and personal, hopefully get a chance to talk to them, answer questions and maybe come out of it unscathed and with some new insight on the show and people from another part of the world. And then seeing England for a few days will be lovely.

7. A favorite fan question at conventions is about the pranks on set and Jared and Jensen said they play pranks on the new guys. Did they target you too?

I've been pretty lucky, so no, for the most part we just talk. They prank the camera operator Brad more than anyone else. If there's water of any type on set, you know that Brad will be wet. He'll start wearing rubber pants at some point.

8. About "The Man with the Iron Fists", how did you land the role on RZA's directorial debut and what was it like working with him?

I was in Beijing at the time and I just ended up meeting a bunch of people who were about to start on it. The casting director contacted me for an audition, they offered me an assassin character originally and then RZA actually asked me to play his assistant so that he could have someone cool to talk to and hang out with. Wouldn't say no to that! RZA is just such a cool dude. Always kept his composure, came in really prepared for his directorial debut and I don't think people gave him enough credit. He definitely did everything he could to make it what it is.

9. Which are the three movies or shows that you like to watch over and over again?

"Office Space". "South Park". "Wreck-it Ralph".

10. Like some other "Supernatural" actors you are on Twitter. What is it like for you to keep in touch with the fans on this social media network?

I was never very keen on using social media sites but I'm slowly learning. It's nice to check every now and then and see all these wonderful messages and notes. It just gets a little overwhelming sometimes. I try to read everything, but I haven't been able to reply to everything. I also try not to repeat myself too many times, so people that ask good questions I'll make an extra effort to answer and put out there for others to see.

11. myFanbase is an online magazine about U.S. television shows. Do you have one or more favorite show(s)?

So many... "South Park". "Futurama". I love cartoons by the way. "Adventure Time". "Breaking Bad", "Game of Thrones", "Community", "The Newsroom", "Parks and Recreation", "30 Rock" And of course "Supernatural". My entire family has actually started watching "Supernatural" now, it's the only show in English that they watch, so that's kinda cool. They record it every week. My mom was just watching the latest episode today, it's kinda neat, they don't usually watch everything that I'm in, but they're really liking the show.

Thank you, Osric, we wish you all the best for your future projects!

Nicole Oebel - myFanbase

Meistgelesen
Aktuelle Kommentare
Verpasst keine News und Updates