Serienstarttermine in den USA
Hier findet ihr die US-Starttermine nach Datum sortiert der nächsten Monate. Zudem findet ihr auch eine Auswahl an kanadischen, britischen oder Online-Serienstarts, die entsprechend durch ein "CAN", "UK" oder "online" hinter der Staffelangabe gekennzeichnet sind.

Falls ihr euch dafür interessiert, wann welche Folge ausgestrahlt wird, werft einen Blick in unseren US-Wochenplaner.

September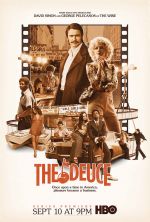 The Deuce
© 2017 Home Box Office, Inc. All rights reserved. HBO® and all related programs are the property of Home Box Office, Inc.
3. September 2019
Mayans M.C (Staffel 2)

6. September 2019
Titans (Staffel 2)

9. September 2019
The Deuce (Staffel 3)

10. September 2019
Mr. Mercedes (Staffel 3)

12. September 2019
Mr. Inbetween (Staffel 2)
The I-Land (Neustart - online)

13. September 2019
Marianne (Neustart - online)
Unbelievable (Neustart - online)

18. September 2019
American Horror Story (Staffel 9)

23. September 2019
9-1-1 (Staffel 3)
All Rise (Neustart)
Bluff City Law (Neustart)
Bob (Hearts) Abishola (Neustart)
Bull (Staffel 4)
The Good Doctor (Staffel 3)
The Neighborhood (Staffel 2)
Prodigal Son (Neustart)

24. September 2019
Black-ish (Staffel 6)
Bless This Mess (Staffel 2)
Die Conners (Staffel 2)
Emergence (Neustart)
Empire (Staffel 6)
FBI (Staffel 2)
Mixed-ish (Neustart)
Navy CIS (Staffel 17)
NCIS: New Orleans (Staffel 6)
New Amsterdam (Staffel 2)
The Resident (Staffel 3)
This Is Us (Staffel 4)

25. September 2019
Chicago Med (Staffel 5)
Chicago Fire (Staffel 8)
Chicago P.D. (Staffel 7)
Die Goldbergs (Staffel 7)
It's Always Sunny in Philadelphia (Staffel 14)
Modern Family (Staffel 11)
Single Parents (Staffel 2)
Schooled (Staffel 2)
Stumptown (Neustart)

26. September 2019
A Million Little Things (Staffel 2)
Carol's Second Act (Neustart)
Evil (Neustart)
The Good Place (Staffel 4)
Grey's Anatomy - Die jungen Ärzte (Staffel 16)
How to Get Away with Murder (Staffel 6)
Law & Order: New York (Staffel 21)
Mom (Staffel 7)
Perfect Harmony (Neustart)
Sunnyside (Neustart)
Superstore (Staffel 5)
The Unicorn (Neustart)
Young Sheldon (Staffel 3)

27. September 2019
American Housewife (Staffel 4)
Blue Bloods - Crime Scene New York (Staffel 10)
Fresh Off the Boat (Staffel 6)
Hawaii Five-0 (2010) (Staffel 10)
Magnum P.I. (Staffel 2)
The Politician (Neustart - online)
Van Helsing (Staffel 4)

29. September 2019
Bless The Hearts (Neustart)
Bob's Burgers (Staffel 10)
Family Guy (Staffel 18)
God Friended Me (Staffel 2)
Navy CIS: L.A. (Staffel 11)
Die Simpsons (Staffel 31)

30. September 2019
The Rookie (Staffel 2)

Oktober
2. Oktober 2019
Almost Family (Neustart)
SEAL Team (Staffel 3)
S.W.A.T. (Staffel 3)

4. Oktober 2019
The Blacklist (Staffel 7)
Raising Dion (Neustart - online)

6. Oktober 2019
Batwoman (Neustart)
Madam Secretary (Staffel 6)
Mr. Robot (Staffel 4)
Supergirl (Staffel 5)
The Walking Dead (Staffel 10)

7. Oktober 2019
All American (Staffel 2)
Black Lightning (Staffel 3)

8. Oktober 2019
The Flash (Staffel 6)

9. Oktober 2019
Riverdale (Staffel 4)
Nancy Drew (Neustart)

10. Oktober 2019
Supernatural (Staffel 15)
Legacies (Staffel 2)

11. Oktober 2019
Charmed (2018) (Staffel 2)
Der Denver-Clan (Staffel 3)

15. Oktober 2019
Arrow (Staffel 8)
The Purge (Staffel 2)
Treadstone (Neustart)

18. Oktober 2019
Looking For Alaska (Neustart - online)
Modern Love (Neustart - online)

23. Oktober 2019
Castle Rock (Staffel 2 - online)

25. Oktober 2019
The Kominsky Method (Staffel 2 - online)

November
1. November 2019
Jack Ryan (Staffel 2 - online)

3. November 2019
Shameless - Nicht ganz nüchtern (Staffel 10)

7. November 2019
Britannia (Staffel 2)

10. November 2019
Kidding (Staffel 2)

17. November 2019
The Crown (Staffel 3 - online)
Ray Donovan (Staffel 7)

15. November 2019
Dollface (Neustart - online)

20. November 2019
Verrückt nach dir (Neustart - online)

Dezember
6. Dezember 2019
Reprisal (Neustart - online)
The Marvelous Mrs. Maisel (Staffel 3 - online)

8. Dezember 2019
The L Word: Generation Q (Neustart)

13. Dezember 2019
Marvel's Runaways (Staffel 3)

Februar
Januar
8. Januar 2020
Party of Five (2019) (Neustart)

9. Februar 2020
Homeland (Staffel 8)

16. Februar 2020
Outlander (Staffel 5)

Meistgelesen
Aktuelle Kommentare

18.09.2019 15:10
Gerade weil es in der finalen Folge nochmals erwähnt...
von Daniela

18.09.2019 12:49
Ich hab schon ein bisschen weitergeschaut und Wade...
von Catherine
mehr Kommentare
Verpasst keine News und Updates