"Legends of Tomorrow" schnappt sich AnnaLynne McCord für Gastauftritt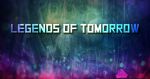 In der "Legends of Tomorrow"-Episode #6.08 Stressed Western wird AnnaLynne McCord einen Gastauftritt absolvieren.

McCord wird als Irma Rose auftreten, die vielen Cowboys auffällt. Unter ihnen befindet sich auch Behrad (Shayan Sobhian); allerdings verbirgt sie auch ein dunkles Geheimnis.

Besagte Episode wird am kommenden Sonntag, 27. Juni 2021, ausgestrahlt.

Alles Weitere zu "Legends of Tomorrow" findet ihr in unserem ausführlichen Serienbereich.
Quelle: TVLine
Daniela S. - myFanbase
22.06.2021 01:18
Weitere News
mehr News
Meistgelesen
Verpasst keine News und Updates