Staffel 3 von Legends of Tomorrow erscheint im Dezember auf DVD und Blu-ray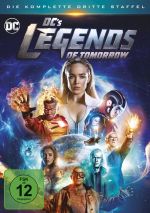 © DC Comics. © 2016 Warner Bros. Entertainment Inc. All rights reserved.
Ende Oktober startete das zweite Superhelden Spin-Off des Senders The CW "Legends of Tomorrow" in den USA in die vierte Staffel. In Deutschland wird am 6. Dezember 2018 die dritte Staffel auf DVD und Blu-ray im Handel verfügbar sein.

Staffel 3 von "Legends of Tomorrow" bei Amazon bestellen: DVD | Blu-ray

In der dritten Staffel reisen die Legends entgegen dem Willen des Zeitbüros und Rip Hunter (Arthur Darvill) wieder durch die Zeit. Denn sie müssen Zeitanachronismen beheben, die durch das Sprengen einer Zeitachse, die die Legegends verursacht haben, entstanden sind. Natürlich stellen sich ihnen dabei aber auch wieder diverse Bösewichte in den Weg und Sara Lance (Caity Lotz) muss ihrem Team alles abverlangen, damit sie ihren Fehler wieder gutmachen können.

Was in der vierten Staffel der Serie "Legends of Tomorrow" bereits passiert ist, erfahrt ihr in unserem Episodenguide, wie die Geschichte um die Helden, die durch die Zeit reisen weitergeht, könnt ihr in unserem Spoiler-Bereich nachlesen.
Externer Inhalt
An dieser Stelle ist Inhalt von einer anderen Website (z. B. YouTube, Twitter...) eingebunden. Beim Anzeigen werden deine Daten zu der entsprechenden Website übertragen.
Quelle: Warner Bros. Entertainment
Maria Schoch - myFanbase
21.11.2018 23:09
Weitere News
mehr News
Meistgelesen
Verpasst keine News und Updates