George R. R. Martin als Zombie in "Z Nation"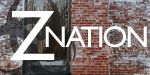 Gestern startete in den USA die Ausstrahlung der zweiten Staffel von "Z Nation", einer Serie, welche die Zombie-Apokalypse mit Humor nimmt. Ein weiteres Beispiel dafür ist die Neuigkeit über einen geplanten Cameo-Auftritt.

George R. R. Martin, der Autor der Buchvorlage von "Game of Thrones", wird in #2.08 The Collector als Zombie auftreten. Die Episode dreht sich um einen Sammler, nur 'Collector' genannt, welcher die Zombies von Prominenten bei sich gefangenhält. Unter diesen befindet sich auch GRRM, der trotz seines untoten Daseins nicht aus seiner Haut kann und weiterhin versucht Bücher zu signieren. Jenes trägt übrigens den Titel 'A Promise of Spring', ein Hinweis auf den Arbeitstitel des siebten Bandes 'A Dream of Spring'.

Schreibt uns doch in den Kommentaren, was ihr von diesem Cameo-Auftritt haltet.

Quelle: Entertainment Weekly
Charleen Winter - myFanbase
12.09.2015 13:58
Weitere News
mehr News
Meistgelesen
Verpasst keine News und Updates