Netflix verlängert "House of Cards" für Staffel 4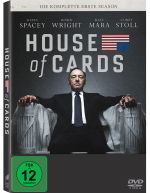 © 2013 MRC II Distribution Company L.P. All Rights Reserved.
Frank J. Underwood kehrt zurück: Wie der Onlineanbieter Netflix bekannt gegeben hat, wird er sein renommiertes Drama "House of Cards" in eine vierte Staffel schicken. Über die offizielle Facebookseite wurde die Tagline "I will leave a legacy" mit dem Hashtag #Underwood2016 veröffentlicht, mit dem das OK für Staffel 4 besiegelt ist.

"House of Cards" brachte Netflix den Durchbruch auf dem Serienmarkt und zeigt Oscarpreisträger Kevin Spacey als Frank J. Underwood, mittlerweile Präsident der Vereinigten Staaten, und Robin Wright als dessen Ehefrau Claire. Die Serie wird von David Fincher, Kevin Spacey, Joshua Donen, Beau Willimon, Dana Brunetti, John David Coles und Eric Rot produziert.

Mit der Verlängerung von "House of Cards" hat Netflix mittlerweile sieben erfolgreiche Eigenproduktionen laufen; zuletzt hatte der Onlineanbieter sein neues Format "Bloodline" für eine zweite Staffel verlängert. Weitere verlängerte Originalprogramme sind "Marco Polo", "Hemlock Grove", "Bojack Horseman", "Unbreakable Kimmy Schmidt" und "Orange Is the New Black".

Was sagt ihr zur Verlängerung von "House of Cards"? Wir sind gespannt auf eure Meinung in den Kommentaren!
Quelle: Netflix
Maria Gruber - myFanbase
03.04.2015 10:53
Weitere News
Meistgelesen
Verpasst keine News und Updates