Sky Atlantic HD zeigt "Banshee"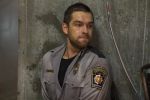 Antony Starr, Banshee
© 2013 Home Box Office, Inc. All rights reserved. HBO® and all related programs are the property of Home Box Office, Inc.
Ein ehemaliger Meisterdieb (Antony Starr) wird nach 15 Jahren aus dem Gefängnis entlassen und macht sich sofort auf die Suche nach seiner großen Liebe Ana (Ivana Milicevic), die seine Komplizin war und mit der gemeinsam er den gefährlichen Gangsterboss Mr. Rabbit (Ben Cross) hintergangen hat. Er findet sie in einer Kleinstadt namens Banshee, mitten im Land der Amischen Gemeinde, wo er durch einen völlig spontanen Coup die Identität des neuen Sheriffs Lucas Hood übernimmt. Schon bald wird klar, dass es sich bei Banshee um alles andere als eine ruhige, verträumte Kleinstadt handelt, und auch das Wiedersehen mit Ana verläuft nicht im geringsten so, wie Lucas es sich erhofft hat.

Als ausführende Produzenten stehen Alan Ball ("Six Feet Under" und "True Blood") und Greg Yaitanes ("Dr. House") hinter der Cinemax-Actionserie "Banshee", die einerseits zwar durch viel Gewalt und Sex auffällt, auf der anderen Seite aber auch eine mitreißende Liebesgeschichte, eine vielseitige Mischung aus interessanten Charakteren und einen äußerst überzeugenden Hauptdarsteller zu bieten hat.

Sky Atlantic HD holt die Serie nach Deutschland und beginnt am Donnerstag, dem 11. Juli um 21 Uhr, mit der deutschen Erstausstrahlung der zehn Episoden der ersten Staffel.
Externer Inhalt
An dieser Stelle ist Inhalt von einer anderen Website (z. B. YouTube, Twitter...) eingebunden. Beim Anzeigen werden deine Daten zu der entsprechenden Website übertragen.
Quelle: Sky Atlantic HD
Nicole Oebel - myFanbase
18.04.2013 14:52
Weitere News
mehr News
Meistgelesen
Verpasst keine News und Updates