Sky Atlantic HD zeigt "Bored to Death"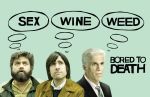 Bored to Death
© 2013 Home Box Office, Inc. All rights reserved. HBO® and all related programs are the property of Home Box Office, Inc.
Wozu Langeweile einen treiben kann, zeigt die HBO-Comedyserie "Bored to Death", die neben Jason Schwartzman auch Ted Danson ("CSI: Vegas") und Zach Galifianakis ("Tru Calling - Schicksal Reloaded", "Hangover") in den Hauptrollen zeigt. Los geht's am 6. März als deutsche Erstausstrahlung immer mittwochs um 21:30 Uhr.

"Bored to Death" handelt von dem gelangweilten Schriftsteller Jonathan Ames (Schwartzman), der es nicht schafft, seinen zweiten Roman fertig zu stellen. Anstatt an dem Buch zu arbeiten, bekifft er sich lieber mit seinem Lektor George (Danson). Eines Tages beschließt er, auf der Suche nach ein paar Abenteuern, Privatdetektiv zu werden. Da er es liebt Krimis und Romane über Privatdetektive zu lesen, hält er dies für eine gute Idee. Doch dabei stolpert er, häufig auch von seiner Fantasie fehlgeleitet, von Fall zu Fall. Sein bester Freund, der Cartoonzeichner Ray (Galifianakis), steht ihm dabei mir Rat und Tat zur Seite.

In den USA wurde "Bored to Death" nach der dritten Staffel abgesetzt. Sky Atlantic HD plant unterdessen bereits die zweite Staffel ab dem 1. Mai und die dritte Staffel ab dem 26. Juni auf dem gleichen Sendeplatz wie jetzt Staffel 1 unterzubringen.
Quelle: Sky Atlantic HD
Catherine Bühnsack - myFanbase
24.01.2013 17:15
Weitere News
mehr News
Meistgelesen
Verpasst keine News und Updates