Interview mit Mitchell Kummen
22. April 2016 | Mitchell Kummen spielte bereits einige der jüngeren Versionen unserer Lieblingscharaktere wie John Young in "The Tomorrow People" und zuletzt Mick Rory in "Legends of Tomorrow". In unserem Interview haben wir mit dem Jungschauspieler über seine Erfahrungen mit dieser Serie, seine Inspirationen sowie über weitere Projekte gesprochen.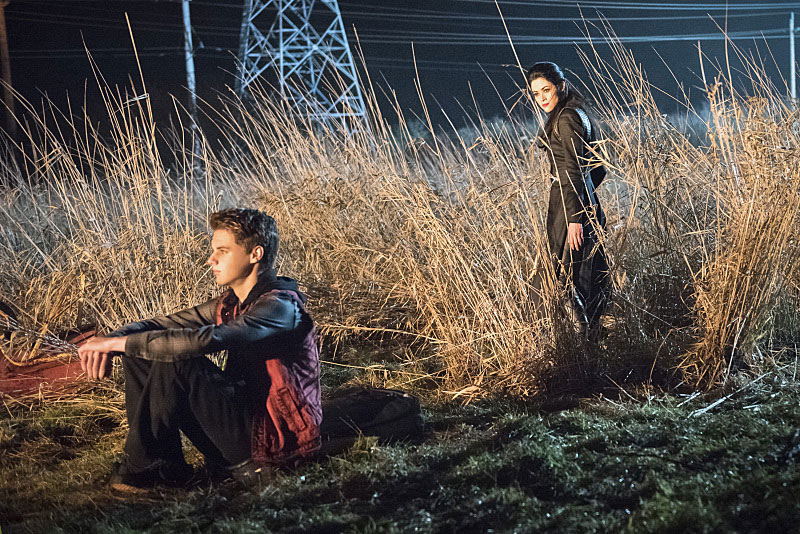 DC's Legends of Tomorrow, "Last Refuge", Mitchell Kummen, Faye Kingslee
© Dean Buscher/The CW 2016 The CW Network, LLC. All Rights Reserved.
Hier könnt ihr das Originalinterview nachlesen. | Read the original interview in English.

1. Du hast bereits einige jüngere Versionen unserer Lieblingscharaktere gespielt. Studierst du bestimmte Verhaltensweisen des älteren Schauspielers ein, wenn du dich auf diese Rollen vorbereitest?

Nein, ich bereite mich nicht in der Form vor, dass ich so etwas im Hinterkopf habe. Ich versuche, mich so gut es geht in den Charakter hineinzuversetzen, und weil es um die jüngere Version eines etablierten Charakters geht, haben wir am Ende tatsächlich einige ähnliche Verhaltensweisen.

2. Letzte Woche gab es einen kleinen Sneak Peak von dir als junger Mick Rory, der ein brennendes Haus beobachtet, während er selbst von Pilgrim beobachtet wird. Was fandest du am Aufregendsten daran, den jungen Heat Wave zu spielen?

Es war cool einen Jungen zu spielen, welcher ein vom Feuer besessener Pyromane ist. Heat Wave nimmt nun das Feuer und tut Gutes damit, was ebenfalls cool ist.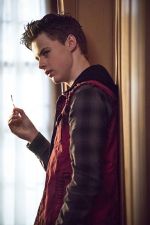 DC's Legends of Tomorrow, "Last Refuge", Mitchell Kummen
© Dean Buscher/The CW 2016 The CW Network, LLC. All Rights Reserved.
3. Einige der Hauptcharaktere haben bereits ihr jüngeres Selbst getroffen. Hast du in deinen Szenen ebenfalls mit dem Hauptcast gearbeitet?

Ja, ich habe mit fast allen von ihnen gearbeitet und ich bewundere sie, das sind alles wundervolle Menschen.

4. Konntest du Zeit mit Dominic Purcell verbringen? Von der Art, wie er in "Prison Break" und "LoT" gespielt hat, nehmen wir an, dass er einfach der Coolste ist. Wie ist er tatsächlich im realen Leben?

Ja, das durfte ich und ja, er ist wirklich der Coolste! Er ist ein sehr netter Mensch, der zuallererst an die Anderen denkt. Er ist ein wirklich talentierter Schauspieler und ich habe mich geehrt gefühlt, sein jüngeres Ich spielen zu dürfen.

5. Wenn du einen Tag mit einem der Charaktere von "LoT" abhängen dürftest, welcher wäre es und was würdet ihr machen?

Es wäre Hawkgirl, da ich mit ihr fliegen könnte, oder vielleicht Atom, weil wir so auf molekulare Größe schrumpfen könnten.

6. Was wissen die Leute nicht über "Legends of Tomorrow"?

Dass 90% der Serie im Studio gefilmt wird und nicht an einem Drehort.

7. Bist du ein Fan des DC Universums? Falls ja, wen magst du lieber, die Helden oder die Bösewichte?

Absolut! Die Helden mag ich lieber, vor allem die Justice League.

8. Welcher der jungen Schauspieler deiner Generation inspiriert dich?

Jennifer Lawrence und Sabrina Carpenter. Mit Sabrina habe ich in "Horns" zusammengearbeitet und sie ist so bescheiden, professionell und vor allen Dingen talentiert.

9. Was ist das Angsteinflößendste, was du als Jungschauspieler in einem Drehbuch finden könntest?

Wenn ich mit einer Spinne arbeiten oder diese halten müsste. Schlangen sind in Ordnung, aber keine Spinnen!

10. Gibt es neue Projekte, über die du uns etwas erzählen könntest – ob Schauspielerei oder Sonstiges, das du unterstützt?

Am 3. Mai werde ich in einer Serie namens "Motive" zu sehen sein. Darüber hinaus unterstütze ich stets Projekte, die sich für psychisch Kranke engagieren.

11. Da myFanbase ein Onlinemagazin ist, das sich mit amerikanischen Fernsehserien beschäftigt, würden wir gerne wissen, welche deine Lieblingsserien sind?

" My Name Is Earl", "How I Met Your Mother", "Brooklyn Nine-Nine", "Real Rob" und "Naruto Shippuden".

Vielen Dank, dass du dir die Zeit für uns genommen hast, Mitchell! Wir wünschen dir alles Gute!

Nicole Oebel und Sina Behling (Übersetzung) - myFanbase

---
Hinweis: © myFanbase 2016 - Das Exklusivinterview darf nicht auf anderen Internetseiten oder an sonstiger Stelle veröffentlicht werden! Die ersten beiden Fragen (nicht mehr als 180 Wörter) dürfen mit Link zu dieser Seite gepostet werden. Übersetzungen in andere Sprachen als Englisch oder Deutsch dürfen mit Link zu dieser Seite und Angabe des Interviewers veröffentlicht werden.
---
It was fun, Great questions Thanks again. #LegendsOfTomorrow https://t.co/sTPHbRxWML

— Mitchell Kummen (@MKummen) 22. April 2016
Kommentare
Meistgelesen
Aktuelle Kommentare

23.05.2022 11:43
Mir gefällt die aktuelle Staffel von Fire auch sehr gut...
von Sharon Kl

23.05.2022 11:36
Ich äußere mich zu der Serie mal bei dieser Staffel....
von Sharon Kl
mehr Kommentare
Verpasst keine News und Updates