Gewinnspiel: Isle of Dogs - Ataris Reise
"Isle of Dogs - Ataris Reise" erzählt die Geschichte von Atari Kobayashi (Koyu Rankin), dem 12-jährigen Pflegesohn des korrupten Bürgermeisters Kobayashi (Kunichi Nomura). Als durch einen Regierungserlass alle Hunde der Stadt Megasaki City auf eine riesige Mülldeponie verbannt werden, macht sich Atari allein in einem Miniatur-Junior-Turboprop auf den Weg und fliegt nach Trash Island auf der Suche nach seinem Bodyguard-Hund Spots. Dort freundet er sich mit einem Rudel Mischlingshunde an und bricht mit ihrer Hilfe zu einer epischen Reise auf, die das Schicksal und die Zukunft der ganzen Präfektur entscheiden wird.

Externer Inhalt
An dieser Stelle ist Inhalt von einer anderen Website (z. B. YouTube, Twitter...) eingebunden. Beim Anzeigen werden deine Daten zu der entsprechenden Website übertragen.
Zum Kinostart von "Isle of Dogs - Ataris Reise" am 10. Mai 2018 verlosen wir drei Fanpakete bestehend aus zwei Kinotickets, einem Poster und einem 5er-Set Figuren.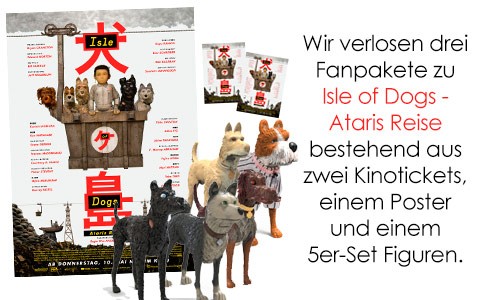 © 2018 Twentieth Century Fox
Teilnahmeschluss: 10. Mai 2018

Meistgelesen
Aktuelle Kommentare

03.08.2021 10:14
Ich kann deine ganzen kritischen Worte sehr gut...
von Lena

28.07.2021 17:46
Jetzt habe ich die Staffel auch endlich mal aufgeholt...
von Lena
mehr Kommentare
Verpasst keine News und Updates