Gewinnspiel: Die Glorreichen Sieben
Die Stadt Rose Creek steht unter der tödlichen Kontrolle des Geschäftsmanns Bartholomew Bogue (Peter Sarsgaard). Die verzweifelten Einwohner engagieren daher zu ihrem Schutz sieben Outlaws, Kopfgeldjäger, Spieler und Revolverhelden – Sam Chisolm (Denzel Washington), Josh Farraday (Chris Pratt), Goodnight Robicheaux (Ethan Hawke), Jack Horne (Vincent D'Onofrio), Billy Rocks (Byung-Hun Lee), Vasquez (Manuel Garcia-Rulfo) und Red Harvest (Martin Sensmeier). Während sie die Stadt auf den gewalttätigen Showdown vorbereiten, der unausweichlich bevorsteht, finden diese sieben Söldner heraus, dass es bei ihrem Kampf um mehr als nur um Geld geht.

Externer Inhalt
An dieser Stelle ist Inhalt von einer anderen Website (z. B. YouTube, Twitter...) eingebunden. Beim Anzeigen werden deine Daten zu der entsprechenden Website übertragen.
Zum Kinostart von "Die Glorreichen Sieben" am 22. September 2016 verlosen wir ein Fanpaket bestehend aus Trinkbecher (Emaille), Notizbuch und Filmplakat.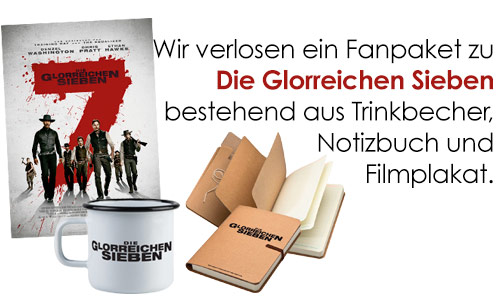 © THE MAGNIFICENT SEVEN © 2016 MGM and CPII. MGM and CPII. The MAGNIFICENT SEVENTM MGM. All Rights Reserved.
Teilnahmeschluss: 29. September 2016

Das Gewinnspiel ist beendet.

Meistgelesen
Aktuelle Kommentare

20.05.2019 20:06
Mir hat die Episode auch sehr gut gefallen. Der Part von...
von Daniela

20.05.2019 19:19
Ich will das Finale nicht gänzlich verteufeln, da Peter...
von Lena
mehr Kommentare
Verpasst keine News und Updates