Gewinnspiel: Under the Dome, Staffel 3
Ohne Vorwarnung wird die US-Kleinstadt Chester's Mill mit einer unsichtbaren Kuppel von der Außenwelt abgetrennt. Während das Militär die Gegend außerhalb der Kuppel abriegelt und den Dingen auf den Grund geht, sind Recht und Ordnung innerhalb der Stadt schnell bedroht. In der vierten Staffel haben die Bewohner von Chester's Mill mit einem neuen Feind innerhalb der Kuppel zu kämpfen... Erfahrt mehr in unserem Serienbereich zu "Under the Dome".

Staffel 3 von "Under the Dome" bei Amazon bestellen:
DVD | Blu-ray
Zur DVD- und Blu-ray-Veröffentlichung der dritten Staffel von "Under the Dome" am 7. April 2016 verlosen wir zwei DVD-Boxen von Staffel 3.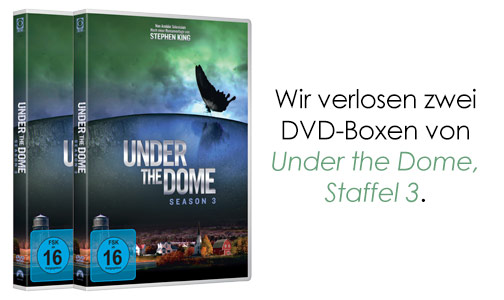 © 2016 Paramount Pictures
Teilnahmeschluss: 14. April 2016

Das Gewinnspiel ist beendet.

Meistgelesen
Aktuelle Kommentare

25.05.2019 00:31
Ich bin sooo gespannt darauf wie es wird... Hat es von...
von Sonia

25.05.2019 00:29
Klasse ich freu mich! Fehlen nur noch die Legends ????
von Sonia
mehr Kommentare
Verpasst keine News und Updates